INTERVIEW: NatGeo's 'Live Free or Die' follows families going into the wild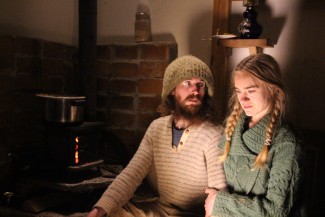 Live Free or Die, the new reality series on National Geographic Channel, follows a variety of people trying to reconnect with their wild surroundings. The "live-off-the-land" movement has gained traction in the United States, and the reality-TV cameras have been there from the start, documenting every move of these adventurous couples and families.
Tony and Amelia, declining to offer their last names, have set up permanent residence in the lush country of North Carolina's Blue Ridge Mountains. For three years, they have been living together in a house that has been a dream come true. They pull the majority of their food from an expansive garden and the nearby forest. What they don't grow with their own hands, they try to barter with their neighbors. Their last resort is a purchase with that other type of green stuff: money.
"I was just hanging out at the garden, and believe it or not one of the executive producers of the TV show literally drove up in a rental vehicle and got out of his car," Tony said on how he was approached for the series. "He caught wind of who I was from a friend of ours who he actually came there to interview for the TV show, and she lives just a few miles from us. He was asking her before he left town, 'Hey, is there anybody else I should visit before I leave town? You know, any other interesting people that are into this sort of stuff.' She said, 'Oh yeah. You should go visit Tony.' So that's exactly what they did. I'm glad they did."
Amelia was initially hesitant around the cameras. She identified herself as having a "limited capacity for being around people a lot and large groups of people." However, the shyness wore off.
"Tony, I think he's a natural in front of the camera," she said. "He's kind of a ham. For me, I get like really shy and nervous, although people say they can't tell from seeing me on film that I'm nervous. But I am. I eventually adjusted though. It took me I think about five days to kind of start getting used to the camera being there and not thinking about it so much and letting it make me nervous. But what did help is that they said the goal is for you to just forget the camera is even there and just kind of basically pretend it's not there. Just go about your life and your projects and stuff as you would naturally do. So I made it a goal to get more and more to that type of mindset, where I just wasn't thinking about the camera."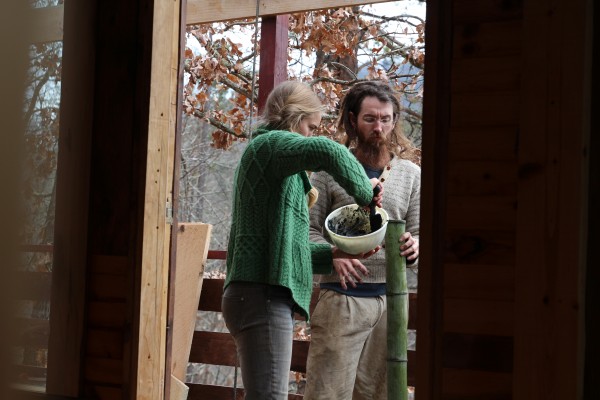 Tony's dream after college was quite simple: He wanted a place to grow some cool plants. He drew up a game plan that included working some construction jobs to afford a downpayment on the house he and Amelia now call home. "I graduated from school in Colorado, and then I worked a job in South Carolina," he said. "Made money for a down payment for some land, and I actually moved to North Carolina actually before I even owned a car. I didn't know anyone in North Carolina, and I didn't know anything about building and got this real sweet piece of land and kind of went at it and made it work eventually."
Amelia was more familiar with the Blue Ridge Mountains. She grew up in east Tennessee, about 90 minutes from their current location. As a kid, shuffling back and forth between her mother's and father's place, she would spend a lot of time outdoors with animals in the garden. "So this is kind of a similar lifestyle to what I knew growing up as a child," she said. "So I moved to Asheville because I liked the diverse community here. There's a lot of kind of alternative lifestyles that go on in Asheville, and I was attracted to that. So I moved here and lived in some smaller communities closer to the city, and then when I met Tony, I moved out here with him. We've been living here for three years now and developing our forest garden and our homestead. Our most recent additions are rabbits and chickens."
Although they haven't completely disregarded money, their day-to-day life is not tied to currency. They still purchase salt, flour and butter. However, they would rather barter for the items than pay for them with money. Sometimes they have excess honey or sweet potatoes, and they're able to strike a deal for dairy products with the neighbors.
"We work a lot with our neighbors," Tony said. "We grow a lot of perennial plants, which are plants that come back year after year, like trees are perennials. If you plant them once … they should outlive a human. So a lot of our foods that we're growing are perennial foods, so they take like a decade to actually hit maturity. So some of those plants haven't totally reached maturity, so we work with our neighbors, some of our old-time neighbors, who have in-place farms and have been farming their whole lives."
This year yielded a tremendous number of blueberries, so Amelia and Tony, who are not vegetarians, were able to trade for some tomatoes, green beans and corn. They canned the vegetables and are still eating the rewards of their bartering. "They [the neighbors] grow a lot more vegetables," Amelia said. "We grow a lot more fruits and nuts, so it works out to trade with them. … I feel really good about not being very dependent on money. I mean we have to have it for certain things, but we don't need much at all. It's really not something we need much of with this lifestyle. Yeah, it's very freeing. It feels empowering."
Tony, who would like to be buried in his garden one day, said the longer they live in this homestead, the less money they'll need. Each day brings another trek on their path to self-sustainability.
"If you have an agricultural system or a culture that requires you needing you to go to the store to buy a lot of stuff, that's a very fragile culture you're dealing with," he said. "Whereas if you can just simply walk out of your door and go pick up the things that you need out of the woods or out of your garden, that's a very resilient system. There's not a whole lot of powers between you and your resources. You don't have to worry about the fluctuation of oil prices, fluctuations in fertilizer prices. You just go get acorns and eat them. It's pretty straightforward."
By John Soltes / Publisher / John@HollywoodSoapbox.com
Live Free or Die airs new episodes on National Geographic Channel Tuesdays at 10 p.m. Click here for more information.