INTERVIEW: Michael Welch runs for his life in new 'Z Nation'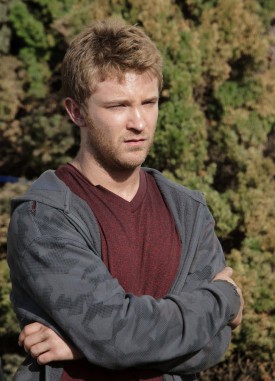 Michael Welch, best known for his role in the Twilight films, is ready to run from zombies. Playing Mack Thompson in the new Syfy series Z Nation, Welch has his work cut out for him in a post-apocalyptic landscape where the undead are hungry for new converts.
Welch's attachment to the project dates back to his role in Born Bad, an indie film from The Asylum production company. "Actually it turned out to be a pretty good movie, and I always just stayed in touch with those guys," Welch said recently during a phone interview. "We were just trying to find the right project, and then just one day out of the blue the casting director out of L.A. called me and said, 'Listen, Mike, we got this zombie show out of Spokane, Wash., do you have any interest?' They sent me over the script. I read it, and I was hooked. I loved it. I knew that if I saw this show on TV with someone else in that role I wasn't going to be too happy, so it's something I was drawn to right off the bat. I had to do it."
Welch's character of Mack is a man of few words. The actor characterized him as very simple and very controlled. As an athlete in college, he learned how to be "clutch" in certain high-pressure situations, and these instincts undoubtedly help him when dealing with the zombies.
"He's someone who is very smart, very capable, kind of genetically built for this world; however, when it comes to the girl in his life, Addy … he kind of loses that control," he said. "And when it comes to protecting Addy, he really turns into a gorilla, I think is the best way I can describe it."
Mack and Addy meet each other on the first night of the apocalypse. She's arty, and he's sporty. They went to the same college and probably would have never stayed together. But the excrement hit the fan, and they become survival buddies.
"So at the core of who Mack is is his need to protect Addy at all costs. I think he's a very interesting character. He's certainly come a long way and evolved throughout the course of the series, but really you can't describe Mack without Addy. They're really a team throughout the course of the series."
Shooting Z Nation was a grind for the actor. The shoot lasted almost four months, but Welch looks past the difficulty of running for his life on a daily basis and sees the acting gig as a "dream come true."
"So much fun running around killing zombies," he said. "It really doesn't get any better than that."
The cast, which is led by Lost's Harold Perrineau, starts off as a ragtag group of survivors, but throughout the first season, which is set to debut Friday, Sept. 12 at 10 p.m., they evolve into a coalesced group.
"Basically this first episode is when these characters all come together under the leadership of Harold Perrineau from Lost, who is excellent in the show, and we go on this mission. There's a lot of us, and we all come from different places and different backgrounds. Like I said, it's a very eclectic group. There would be no other real reason for a group like this to have gotten together, but that's what makes shows like this interesting to me is that all these sort of social constructs that keep people separated. None of that really matters when you're in a zombie apocalypse, so you really get to strip all that way and get to see who human beings really are and what we're really made of."
There is a deluge of post-apocalyptic/dystopian fare on television. From The Last Ship to The Leftovers to The Walking Dead to The Lottery to Dominion to Defiance … one gets the point. Welch said these narratives, where society is sometimes missing, provide interesting stories.
"It's a cool thing to explore, so I think that'll never go out of style," he said. "I think there's this maybe inherent sense of pessimism maybe in society, and that's being reflected in the storytelling. People, whether this is true or not, are kind of getting the sense that in a lot of areas in our world things are really falling apart."
Welch has wanted to perform in films and television since a young age. His mother got him headshots and ended up meeting a talent manager in a dermatologist office. That manager is still with Welch to this day. His first acting job was as the younger version of Niles on Frasier, a role that spawned a career that includes the Twilight franchise and now Z Nation.
"I had no intentions to do it professionally," he said. "I never really know what to tell people when they ask me for advice on how to break into this business because I can't just recommend people go to a random dermatologist office and try to find a manager."
By John Soltes / Publisher / John@HollywoodSoapbox.com
Z Nation premieres on Syfy Friday, Sept. 12. Click here for more information.