INTERVIEW: Zandy Hartig becomes YouTube sensation in 'American Viral'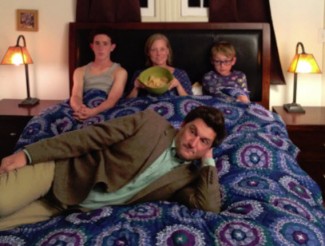 Zandy Hartig, who stars in Adult Swim's Childrens Hospital and this summer's They Came Together, has now entered the universe of Thundershorts, an online outlet for brief episodic comedy. She paired with Michael Showalter for a series called American Viral, a show about an American family that tries to release funny YouTube videos and gather as much attention as possible.
The project began as a student film when Showalter was teaching at NYU. "They were making their thesis, and they came up with this idea," Hartig said recently during a phone interview. "I have to be honest, when he at first asked me, I thought, oh boy. I've done student films before. It's really disorganized, and everyone has really good intentions. But, you know, I was at a particularly busy time in my life, and I really did it as a favor to Michael, not expecting anything. And, as it turned out, they weren't all kids. Some of them were full-fledged adults, and from kids to full-fledged adults, they were all just completely on top of their games and one of the most professional things I've ever worked on. And I was super-impressed. The script was so good. They hired fantastic actors. They knew what they wanted. They were direct and fun to work with."
That original film went on to some acclaim, and eventually funding was secured for more episodes and a run on Thundershorts. Now new episodes, which run only a few minutes and are free to the public, premiere on Tuesdays on the comedy website.
"There was a micro-budget, and everybody was kind of donating their time. So, we did all of those in the matter of three days. So that requires a level of organization that's pretty impressive on their part."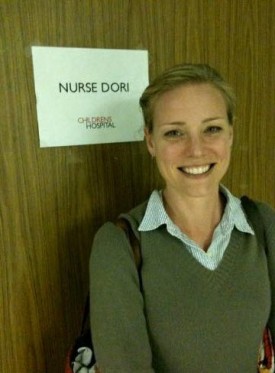 Hartig is no stranger to working fast on TV projects. Childrens Hospital, which has enjoyed critical success on Adult Swim, has a rushed schedule as well. The actress, who plays Nurse Dori, said that 15-minute episodes usually take two days to film. "I'm used to and like that kind of guerrilla filmmaking," she said. "I think it kind of brings out the best when you have limited time and limited resources. It forces you to be more creative as opposed to having all the time in the world and all the options in the world and all the money in the world, which I honestly can't say I've done too many of those. But I think that too many choices sometimes is very anxiety-making."
In American Viral, Hartig plays the mother of two sons and wife to Showalter (in real life, she's married to David Wain, a frequent collaborator with Showalter). Of the four family members, she seems to have a love-hate relationship with the YouTube life. She tries to protect her children, but she can't help herself from having an online life as well.
"They've been together for a really, really long time," she said of the family. "I think she really does love [Showalter's character], even though he's a total boob. I think maybe her love goes back when they first met and he was full of luster, and she believed it. … She likes the idea of being famous, too, and well known and significant and important. But, I think, now that they're older and they have kids, and it's starting to affect the kids, I think there's a little doubt creeping into her mind. But, I think, she's very much in love with him, her husband, but she's also a mom and wants to protect her kids. And he's a total boob."
In real life, Hartig and Wain love watching news bloopers and "cute animal videos." In fact, Hartig admitted to being obsessed with the animal videos. However, she was shocked to find out that YouTube has a fanboy/fangirl side as well, with conventions and Internet celebrities.
"I did not know that even existed, and it's a little terrifying to me," she said. "I am a full-on addict of Twitter and Instagram. Like full-on, I love it, I love it, I love it, but I think I have a sense of discretion about what I put up there. I try to limit my kid postings to a non-insufferable level, and I try not to be too over-sharey. But I have kids, so I worry about it all the time. They're going to be better at the computer than I am in probably less than a year, and thank God my husband is computer-savvy. But this is a brave new world that I'm terrified of."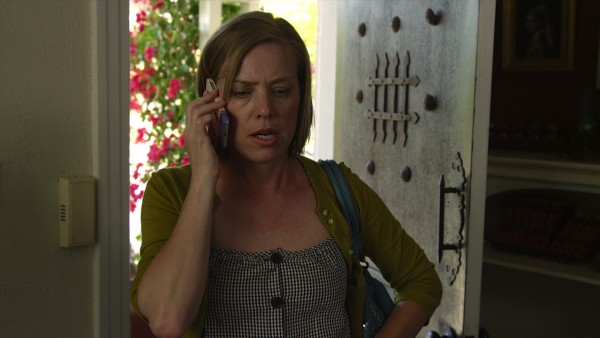 Hartig said she's grateful to work on several projects with Showalter and her husband, Wain. Together with Michael Ian Black, these three comedians have been responsible for a number of cult movies and TV shows, going back to MTV's The State and Wet Hot American Summer. They've grouped together a troupe of actors who are regulars in their projects, including Hartig, Paul Rudd, Ken Marino and Justin Theroux.
"I could never lump myself in with them," she said. "They've grown up together, in a sense. They've known each other since they were 18, 19, and they kind of raised each other. So they have a wonderful, crazy shorthand that they do, and they can just pull this amazing stuff seemingly [out] of nowhere. I am completely honored when I get to do anything with them, but I would really never put myself on their level. I'm more accidentally happened in on this. I was more of a theater-trained actress, and I'm extremely happy and grateful to be even part of this comedy troupe. Yes, they love working with each other, and it's quite amazing to see the results of them when they get together."
As far as the future, Hartig is hopeful for more episodes of American Viral (that is if the comedy series goes viral) and the upcoming season of Childrens Hospital. "I don't know what the plan is," she said about American Viral. "We have to see if people like it, and if they do like it, maybe we'll make some more. Certainly the way it ends is very open-ended. I think we'll see. It remains to be seen. It's a mystery to everyone, including me."
By John Soltes / Publisher / John@HollywoodSoapbox.com
Click here for more information on American Viral.