INTERVIEW: Cirque du Soleil's 'Varekai' leaves behind big top for arena spectacular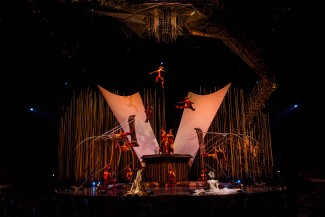 Fabrice Lemire, artistic director of Cirque du Soleil's popular Varekai show, could be classified as the ultimate fan of the acrobatic spectacular. His all-encompassing job requires the former dancer to watch the show at least five times per week, and each viewing leads to more notes on how to fine-tune the artistic vision of this landmark property for the successful Montreal-based company. Many artists and staff members are relying on his support — but in the Cirque world, relying on support is, literally and figuratively, another day at the office.
Lemire, in a phone interview, called himself a "facilitator, a liaison between everything in the show. So I'm responsible for the artistic stuff, which combine about 50 artists and about 10 employees." He ensures that the quality of the Varekai performances are up to Cirque standards, and he does this by improving the wellbeing of each individual artist. He tries to keep "them motivated on and off stage."
"That means to get a quality show I have to make sure my artists are happy touring and doing this job, which is very demanding over and over, with the traveling every week," he said. "Another side of my responsibility is to liaise everything with the headquarter in Montreal."
He applies the Cirque guidelines and principles on the touring stage, making sure the brand is still shimmering after every performance. Audience members in the United States will get to see Lemire's hard work pay off when Varekai makes stops in Indianapolis (July 24-27), the Barclays Center in Brooklyn, N.Y. (July 30 to Aug. 4) and Cleveland (Aug. 6-10). Other cities include Erie, Pa.; Atlantic City, N.J.; Portland, Maine; Newark, N.J.; Philadelphia; and Orlando, among others. Click here for the full schedule of dates.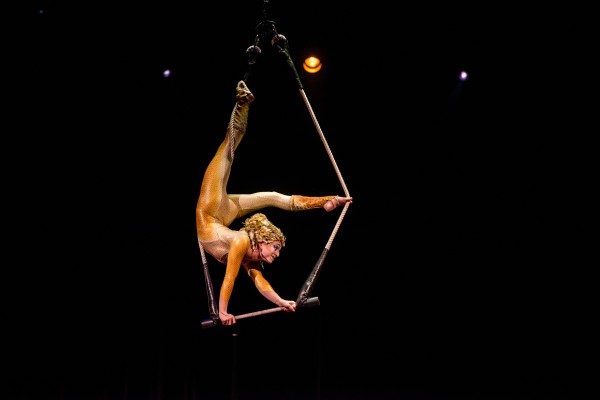 The show, originally written and directed by Dominic Champagne, follows a man's journey into a fantastical world filled with magical creatures. Audiences can expect such acts as the aerial straps, Russian swings and, of course, some juggling and clowning around.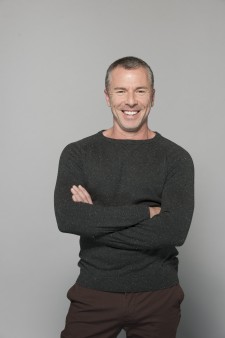 Varekai is always evolving, and it's up to Lemire to make the changes happen seamlessly. "Like 2015, I'm looking at the content and what could be modified in the show that I have, what could be completely changed perhaps just so the show continues to evolve and is influenced by … this generation of people," he said. "How can I have [new technology] brought to the show to support it while also sometimes preserving the integrity and mostly the content of the idea of the creator, as well as letting it … move and breathe to a new direction."
Sometimes, the change is "copy-paste," as Lemire put it. If an artist leaves the show, the artistic director puts a call out for a replacement. Other times, it's introducing a new act and new artists for a new experience.
"When I'm watching the show for the first time, I let the performance speak to me in one way or the other," Lemire said. "Something that really makes sense and works, I'm taking notes. What needs to be perhaps addressed will speak as well, and I'm taking notes. And then I see how much freedom I have, which way can I go, what can I do to really make the message clear to the arena."
Perhaps the largest change in Varekai's history took place under Lemire's watch in the past few months. The show, a staple of big tops around the world, has been modified into an arena spectacular. It's streamlined a bit (cutting 25 minutes), and the acts feature some variability from venue to venue. In a big-top tent, where heights are the same from city to city, aerialists could bank on their entrances and exits. That's no longer the case with Varekai setting up in different arenas, so the creative team needed to modify the acts slightly. And when one item is modified, everything else — including music and lights — needs to follow suit.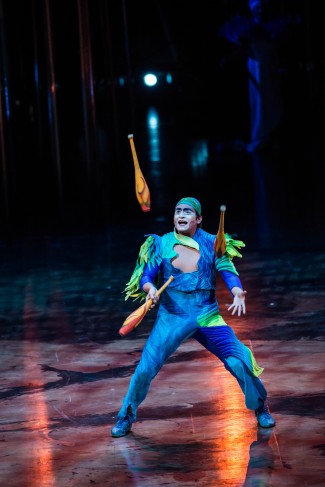 "In the arena, every single arena is different, so first we have to agree that we cannot ask our artists to change height week after week," he said. "Also the sound quality has changed because we go from a tent to an enclosure environment where the sound is surrounded. … You can really go further, I think, in the arena with sound quality simply because of the surround sound and the system you can have."
The clowns in the show are also altered. Because the proximity of the audience in arenas is not as intimate as the tent, the clowns need to rely on other instincts to interpret the feedback of the crowd. "In the arena, the distance does not give the same experience to the clown. Sometimes the feedback does not come back to him or her as strongly, so they have … to continue on like it was the same experience. And sometimes they have to learn how to project … so the person sitting way far back in this arena has exactly the same experience as the person seated in the first row."
Now that the transfer to arena touring is complete, Lemire can breathe a little easier and focus more on the performers and artistic content. He stresses the artistic side of his job by watching the show as much as possible. He sits at different angles in order to achieve a novel perspective. "When you see something every single day, you have a tendency sometimes to become comfortable with what the artists give you," he said. "You get familiar and you accept. It's important for me to step back and not look, and come back a few more days later, or sometimes a week later, and look at the act and say, OK this was not working last week."
Lemire was quick to say he didn't have a favorite act; however, there are some set pieces that standout as highlights for the audience. The Russian swings is a "strong finale" with five new performers joining Varekai. "While we're performing and integrating five new artists into an act which is already rolling, it's a huge task because I'm asking all these guys to be backstage every day to work on and on and on to simply integrate," he said. "Some of these artists have been doing this for a long time, and they are used to the partner. And right now we have these five newbies coming in, and it's major work because, of course, you are educating new artists to come in. And, of course, they will do everything to adapt, and then the older performers who have been here for a long time need to reopen their minds."
Lemire, a trained ballet dancer and winner of the First Prize for Male Dance from the Conservatoire National Supérieur de Musique et de Danse de Paris, uses the collaboration skills he picked up from dancing and applies them to his Cirque work. He worked on the company's former Macau show (ZAiA) and also served as artistic director of Quidam. He's been with Varekai for two years, and, as long as the creative challenges are still there, he's happy to keep watching the show and taking notes.
"The day I will sit in the audience and I'm taking the same notes over and over, it would really be the time for me to look in the mirror," he said.
For Lemire, that time has not come, and he still receives much joy evolving Varekai for new audiences week after week.
By John Soltes / Publisher / John@HollywoodSoapbox.com
Varekai will play the Barclays Center in Brooklyn from July 30 to Aug. 4. Click here for more information.