INTERVIEW: Jeff Blumenkrantz is highly suspect in 'Murder for Two'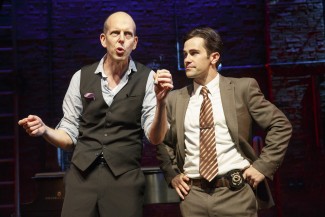 Murder for Two, the new musical comedy that runs at New York City's New World Stages through June 29, features an enormous set of characters, yet only two actors.
While Brett Ryback plays Marcus, the detective in this whodunit, Jeff Blumenkrantz portrays every single one of the suspects that come into question. This means the versatile actor needs to play both male and female, old and young characters, and sometimes virtually at the same time. If an audience member ever wanted to see an actor converse with himself as if two people were talking, Murder for Two provides just such entertainment.
The hit show, which began at Second Stage Uptown before its current run, started as a project that Blumenkrantz first heard about at the BMI Lehman Engel Musical Theatre Workshop. The brainchild of Joe Kinosian (book and music) and Kellen Blair (book and lyrics), Murder for Two has become one of the strongest musical stories of the season, a glimmer in an otherwise bleak landscape for new, original material.
"I knew about the project, but I had never seen it," Blumenkrantz said recently during a phone interview. "So I went sort of blind with a big stack of scenes and songs, things to play on the piano, things to sing, things to read, characters to create. I had never really done anything like it before, you know, playing multiples characters, and certainly playing multiple characters at the same time."
Blumenkrantz said his performance is unlike what Jefferson Mays is currently doing in the Tony-nominated A Gentleman's Guide to Love and Murder. Rather than playing a character running off stage for a costume change and then returning as a new personage, Blumenkrantz doesn't have time to spend on a new outfit.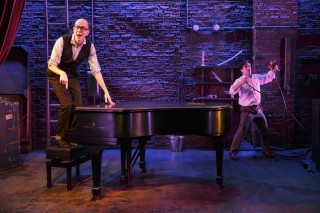 "I play them all simultaneously. So I have conversations with myself. I don't change costume. I wear one costume for the whole show, and these characters just sort of pop up when they need to pop up. Most people don't really get the opportunity to do that kind of character changing. So I really didn't know how that was going to go, but it's been really fun to figure that out with the director, the writers and my co-star."
Although the actor said he has favorites among his motley variety of characters, he'd rather not divulge them. "I think it might be more of a function of who gets the most stage time, who my favorites are, because I like the characters who are the most developed via text and song," he said. "But, yeah, I definitely have my favorites. I hesitate to tell you who they are because I certainly don't want anyone to think that I don't favor [my other] characters. What's interesting is everybody has their own favorite, too."
Blumenkrantz highly praised his co-star Ryback, calling him a "smart actor" with a lot of integrity. The two share the stage for the entire 90 minutes, so relying on each other's timing and talents is a must. "He's much more concerned with story tracking and characters staying consistent to who we set them up to be than getting a laugh, and that is really how I come to it, too. So we're really on the same page that way. That being said, he's also a really good comedic actor and an incredible singer and musician, so he's really got it all going on. And I am always very happy to share the stage with him."
Playing comedy can be tricky for an actor, perhaps even more so than drama. Trying to believe in the character, and yet let some of the foolishness wash over the audience, is an interesting balancing act. For Blumenkrantz, he comes back to the "reality for that character" and then an "awareness of certain rhythms or inflections that make what they say funnier than other inflections or rhythms."
Mastering this balancing act can be quite draining for the actors. After 90 minutes, with no more than a 15-second break during the performance, they are spent.
"I have a unique assignment in that I play all these characters who by the end of the show have exhausted every part of my vocal range, from girls who talk at the top of my range to guys who go to the bottom of my range. And everybody at some point screams their head off in this show, so I am always vocally wrecked. Every minute of my life for the last year I have been vocally exhausted."
The exhaustion has left Blumenkrantz focusing mostly on this performance the last year. He hasn't had the time or energy to turn toward his songwriting career. However, come July 1, he plans on picking up the pen once more and drafting some new songs.
"I really have just felt like doing as little as possible to protect my resources for performing the show. There's an element of composing that requires you to sing. You're trying your songs on, feeling how they feel on the voice, and I just don't have the spare voice to use as a composer. So I am off. I am off probably until the end of June. I will become a writer again on July 1."
Blumenkrantz, an alum of Broadway's Into the Woods, The Threepenny Opera and Damn Yankees, among other shows, has been fixed on musical theater from a young age. His mother was involved in community theater, and he used to tag along to her performances at the age of 5. An experience at Stagedoor Manor, a popular summer camp, from the ages of 11 to 15 cemented the deal. After that, it was time for college and making a go of it in New York City.
The many years of practice have paid off. And now, even though he isn't writing, he's already thinking of his next career move post-Murder for Two.
"I'm not writing, but I'm percolating," he said. "I'm like, what am I going to write, what am I going to write. And, of course, my dream is that somebody plops a project down on my lap, but if that doesn't happen, I'll just have to come up with one for myself."
By John Soltes / Publisher / John@HollywoodSoapbox.com