INTERVIEW: Discovery set to premiere 'Rods N Wheels'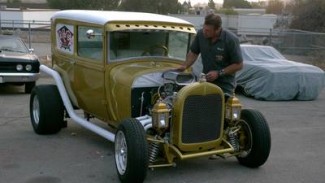 Southern California's Da Rod Shop plays host to the automotive imaginations of entrepreneurs and friends Billy Derian Sr. and Steve Reck. They are steeped in the wonderment of classic cars, bringing dreams come true to many enthusiasts on the open road. Now their exploits are the subject of a new reality series on Discovery Channel. Rods N Wheels premieres Monday, Jan. 27 at 10 p.m.
Recently, Derian exchanged emails with Hollywood Soapbox to discuss cars, cameras and career highlights. Questions and answers have been slightly edited.
Where did your fascination and love of cars come from?
Like a lot of kids from my era, especially boys growing up in Southern California, my dad had me wrenching on cars when I was around 5 years old. It starts innocently enough, you play around with his socket set trying to remove the lug nuts from old rusty wheels (which fathers always know is impossible for a lil kid) and the next thing you know, your pops has you breaking down 4 barrel carbs and re-jetting them! My fondest memories are working in my grandfather's garage with his hand forged tools, some built in the 30s & 40s, watching intently as my dad tore apart the family 1969 Buick Rivera.
Of course, my first love will always be my very first car … a 1969 Mercury Cougar. Unlike most spoiled kids today who get handed keys, my father pointed to that old Merc. in the field next to our house and mumbled "if you can get it out of the dirt and running, she is yours." … That car was the most beautiful muscle car in the Valley after I got done. Worked 2 jobs and all my spare hours fixing her up. I did not even have a car until after my senior year because of the intense restoration I decided to perform on the ole beater. Every since then, the empowerment and satisfaction of designing and building my own cars was like a sickness … and it is INCURABLE!
Is Da Rod Shop your dream come true? Why did you decide to open your own shop?
Our shop really is a dream come true … not because we operate our own business, not because we make cash but because we are surrounded by the things we love … family, lifelong friends and steel hunks of American history! Steve & I, along with the entire team, feel like we are part of a rescue mission and the victims are these glorious old cars so laden with personal stories and often times also laden with debilitating rust and neglect. We will take on projects almost at our cost to save some of the more rare and desirable classics.
The decision to open 'Da Rod Shop' was Steve's … the obsession to make it the best shop in California is mine … and we are doing that one restoration at a time. Our sons' futures and the opportunity to teach work ethic was a big factor in creating our shop reputation. We want to hand over a legacy that they can be proud of.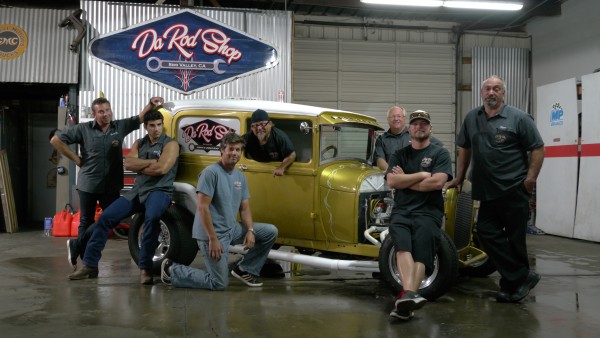 What's it like working with Steve Reck? Do you always get along?
Steve & I have very different personalities, approaches to business and skill sets.  For instance, Steve prefers slow & steady … I like speedy & manic. The action is what I crave so I keep the pipeline full and mix it up with interesting projects and customers. Steve is a meticulous master mechanic who cannot be rushed; unfortunately I am hyper and time is money for me (and life is short, right) … these two worlds collide on a daily basis and I think you can see this dynamic if you watch our show!
My strong points are sales, design and creating customer enthusiasm. Steve's strong points are his ability to diagnose, repair, build, fabricate and engineer. Obviously opposites attract and in business they also detract … meaning that we often are agitated with each other but in the end, the cars are what is paramount. We always seem to smooth out personal differences for the better of the projects and clients. Although it is hard to see on the surface, there is an extremely high respect level for each other.
What's it like having the reality TV cameras around? Do you think you'll like seeing yourself on TV?
Honestly, at first they got in our way big-time. We move and shake and any extra equipment and bodies just slows us down. However, since we are all about family & friends,the TV crews became part of our small circle very quickly. We grew to love the entire production crew within a few weeks and then a strange thing happened … they just kind of disappeared from our eyes and we ignored them, went about our daily routine and let them document the mayhem and artistry!
Since we have 7 of us in the shop, the feelings about being on TV are mixed. Me, Jeff and Art have pretty sizable egos so I know we will be watching ourselves on the tube, pausing it, watching again … but my Son Billy Jr. could care less (he did mention getting more chicks from it!). Steve, The Professor (Mike) and Shane seem to be indifferent to it, but I bet that when kids and fans of these cars and the show come up to them, the rush will be hard to ignore.
Of all the cars you've worked on, is there one that stands out as a favorite?
Seriously an unfair question … it's like asking which of your children you love more … right!? I can tell you that my favorite Muscle car has to be early to mid 60s Corvettes for the sexy styling and unique fiberglass feel (1963 split window is a legend and the 1967 is the most coveted). As a classic Hot Rod, the 1932 Ford roadster or 3 window is top top top of the list for most auto-aficionados and last but not least for a dropped down, cruiser sled it's a tie … the 1959 hardtop Cadillac with its huge fins and bullet taillights or the 1949-1950 Merc chopped, shaved, bagged … sick just sick!
By John Soltes / Publisher / John@HollywoodSoapbox.com
Click here for more information. Rods N Wheels premieres Monday, Jan. 27 at 10 p.m.