'The Mill & the Cross' brings to life Bruegel's 'The Way to Calvary'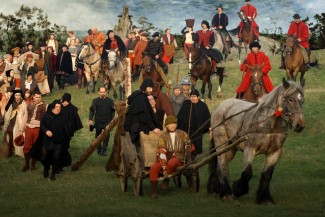 Watching director Lech Majewski's exquisitely transfixing The Mill & the Cross is like stepping into a painting and inspecting all of the details and peculiarities of the artist's mind. Rutger Hauer plays Peter Bruegel, the painter behind the masterpiece known as "The Way to Calvary." The movie depicts Bruegel as he brings this unbelievably ambitious painting to life.
Charlotte Rampling and Michael York offer revelatory supporting performances, and the rest of the cast has an uncanny ability to melt into the artist's background. The surreal nature of this film is that everything feels malleable, as if the movie is bleeding from the canvas, as if Bruegel's work is alive and morphing before our eyes.
Majewski and his fellow screenwriter Michael Francis Gibson chose several stories from the crowded painting to focus on. These interlocked tales offer viewers the chance to get closer to the overall subject matter, which an updated version of Christ's passion. Rampling plays Mary in the painting, while York is an art collector and friend of Bruegel's and thus removed from the painting. This is less a traditional film and more of an essay on art, a chance to spend a few minutes with the creator as he is creating.
There's no other term to describe Majewski's work than visionary. The concept of diving deeper into a famous work of art has been done before both in book and movie form. However, The Mill & the Cross goes beyond any previous incarnations by focusing less on the inspiration for the work or the artist himself and more on how the divide between creator/creation can be so small.
The visuals of the film can be breathtaking. At times it feels like these characters, some of them stuck in tortuous positions, are standing and talking against a background of watercolors. Other times, it feels as if the characters are actually on this mountain in Flanders in the 16th Century. Everything feels dreamy.
Hauer is an interesting actor and always has been. His expressive emotions are somewhat dulled as Bruegel, and his self-portrait is more contemplative than showy. Within his furrowed brow there's a sense of anguish, as if the message of his painting has trouble revealing itself. The accompanying music, extremely somber and funereal, helps set the tone of death and loss found within the painting.
There are times when viewing enormous canvases in the hallowed halls of a museum can be overwhelming. There are too many people, too much action, too few spots to rest one's eyes. Bruegel's painting begs for inspection, and Majewski's masterful film does just that. It provides that feeling of warmth one attains when finding a painting in a museum and deciding to stay standing for a few minutes or hours, wanting to get closer to the details.
By John Soltes / Publisher / John@HollywoodSoapbox.com
The Mill & the Cross

Directed by Lech Majewski

Written by Majewski and Michael Francis Gibson

Starring Rutger Hauer, Michael York and Charlotte Rampling

Running time: 92 minutes

Rating: