'The Nightmare Before Christmas,' still one of the best movies of all time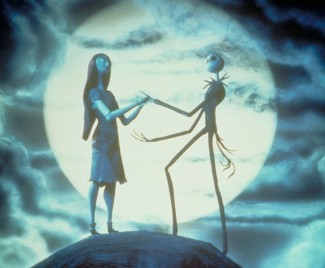 Although screenings of The Nightmare Before Christmas seem most appropriate from October to December when Halloween and Christmas are in society's consciousness. However, watching this clay-mation creation at any time of year is perfectly suitable.
The movie, directed by Henry Selick and based on a story by Tim Burton, has rightfully become one of the most celebrated films of the last 20 years. The songs are memorable. The jokes still land. The visuals are stunningly beautiful. Running barely longer than an hour, The Nightmare Before Christmas is as enjoyable as ever.
Jack Skellington, voiced by Chris Sarandon and sung by composer Danny Elfman, is our anti-hero. He's the head of a magical land devoted to all things Halloween. He lives in a house that hovers over the strange residents of this dark, dark land (Edward Scissorhands, anyone?). After another successful Halloween, Jack realizes he's missing something in life. Scaring young kids and holding court over werewolves, vampires and ghouls just isn't enough.
With his ghost dog floating by his side, Jack takes for a laconic walk through the dreamy landscape. He stumbles upon a portal that takes him to other holiday-themed universes, and the "bone daddy" decides to take a look at the Christmas world. The positivity, colors and effusion for family are startling, but he loves the polarity compared to his Halloween roots. Jack immediately sets off to bring some Christmas cheer to the doldrums of his native town.
Sally (Catherine O'Hara) is the love interest in the story, although how she interacts with Jack is quite odd. She's a ragdoll of sorts, kept under close watch by a mad scientist (William Hickey). There are numerous supporting characters that have proved memorable over the film's 20-year history. From the mayor (Glenn Shadix) to Oogie Boogie (Ken Page), this unusual world will forever be remembered.
The songs from the movie-musical are catchy and hummable. "This is Halloween" introduces the audience to scary town, while "What's This?" introduces us to Christmas-ville. I'm partial to "Jack's Lament," a beautifully written solo that highlights Jack's depression. Another highlight is "Oogie Boogie's Song," always a crowd-pleaser.
The Nightmare Before Christmas, which still pops up in movie theaters around the holidays, as proved to be an influential addition to the animation canon. It's hard to look at Paranorman, Corpse Bride or Frankenweenie (several of these are from Burton's mind) without first seeing Jack Skellington, his floating dog and the quest to put claws in "Santa Claus." The 1993 gem deserves repeat viewing; it deserves the label classic.
By John Soltes / Publisher / John@HollywoodSoapbox.com
The Nightmare Before Christmas

Directed by Henry Selick

Written by Caroline Thompson; based on a story by Tim Burton

Featuring the voice talents of Danny Elfman, Chris Sarandon and Catherine O'Hara

Running time: 76 minutes

Rated PG for some scary images

Rating: