'DEFIANCE' INTERVIEW & CLIP: Julie Benz talks about new Syfy show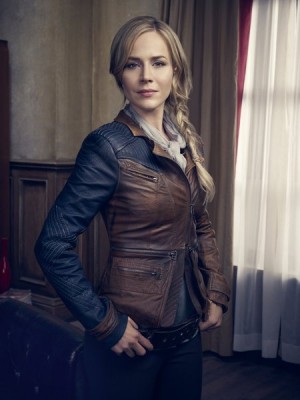 Julie Benz is one of the most recognizable actresses on television, especially for genre fans who have cherished her roles in Buffy: The Vampire Slayer and Dexter. Now she's ready to add another bullet point to her résumé with Defiance, the ambitious Syfy series that is set to premiere tonight, April 15, at 9 p.m.
In the show, Benz plays Amanda Rosewater, the mayor of Defiance, a futuristic town that finds humans trying to live peacefully with their alien cohorts (called Votans). Dedicated to peace, Rosewater's political sway could save or end humanity forever.
Viewers might recognize some of Defiance's locations: The town is built on the remnants of St. Louis, but it's now 2046 and a completely different world.
Recently, Hollywood Soapbox took part in a roundtable phone interview with Benz. Here's what she had to say about how Defiance compares to her work on Buffy and Dexter:
"I think that for me it's all within the characters and the strengths of the characters and the writing. And I think it definitely holds up next to Buffy and Dexter in that regard. When I look at to sign on for projects, I really look at the writing and the character, and is this the character I want to play … with the possibilty of playing for seven to eight years. Is this a story I want to be a part of that's being told?
"I think it has a very strong narrative with obvious very strong creative behind it, and it's just as rich as, you know, the Dexter script and as the Buffy pilot script, both scripts that I read. So yeah I think it definitely holds up. I mean the scope is epic. It's like nothing I've ever been a part of in television. I mean the amount of detail that went into creating this whole fantasy world is tremendous. … I feel like we're doing a feature film every week. That's what it feels like."
Enjoy this behind-the-scenes look at Defiance:
By John Soltes / Publisher / John@HollywoodSoapbox.com