LAST CHANCE: 'Evita' features a breathtakingly original performance from Elena Roger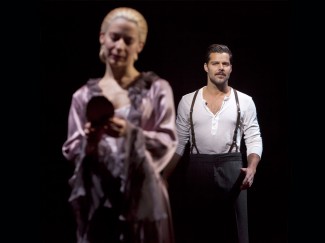 Head down to the Marquis Theatre in New York City before Jan. 26 and take a trip to Buenos Aires. On display is Andrew Lloyd Webber and Tim Rice's popular musical about Eva Perón, the charismatic first lady of Argentina.
Evita is just about as recognizable and beloved a show as one can have on Broadway. The iconic characters, including Che, Eva and Perón, offer actors ample opportunity to show off their singing skills and acting chops. The songs are hummable and memorable, in part thanks to the successful Madonna movie from the 1990s.
This recent production, an import from London directed by Michael Grandage, has several effective performances and tremendously powerful scenes. The choreography by Rob Ashford, featuring several large ensemble numbers, is well-handled and fits the two-act musical nicely.
But the show's success begins and ends with Elena Roger as the title character. Although she failed to win over critics and couldn't receive love from the Tony nominators, Roger is giving a stirring performance as Eva. This is not Patti LuPone's take. This isn't Madonna's take. This is a wholly original performance dripping with authenticity and realism. The character has never felt so accessible and grounded; she's now a godly woman brought back to earth, ready for scrutiny and praise.
It helps that Roger is from Argentina herself. There's a unique energy and pulsating drive to her performance. She's acting, to be sure, but there's truth on the stage of the Marquis Theatre. When Eva sings of the opportune streets of Buenos Aires, it's not from a postcard perspective. There's a definite believability behind the lyrics when sung so beautifully by Roger.
Does she hit every high note? Does her vocal talent waver as the show progresses? Whatever setbacks might come, they never get in the way of the musical. I'll take realism and authenticity over theatrics and spot-on singing most days of the week. Aren't we getting tired of the belters? There's a place for them on Broadway; they've earned that spot. But once in a while, it's nice to have someone earn top billing because they bring more to the role than just a perfect voice. Roger is that actress. She enlivens Eva with attitude, anguish and happiness. She makes us believe in the performance, and then her second-act numbers, including "You Must Love Me" (from the movie) and "Don't Cry For Me, Argentina" feel well-earned and appropriate.
Roger is giving perhaps the most electric performance on Broadway … at least until Jan. 26.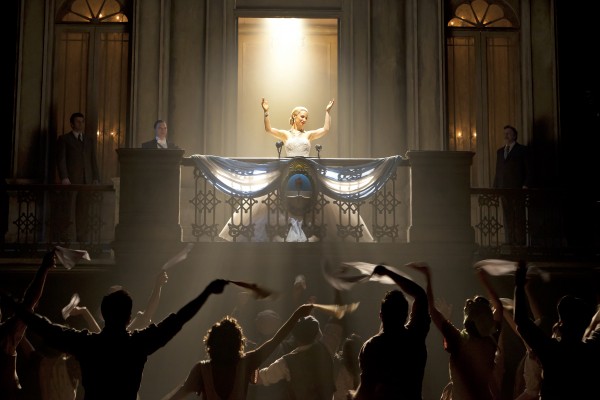 Does she work well with Ricky Martin as Che? He's not bad. In fact, one could say he's much better than expected, especially for such a difficult role. The problem with his performance is that it feels too structured and regimented, as if he's not letting the revolutionary spirit of this "everyman" roll out through the theater. The opening number ("Requiem"), when Che introduces us to the demise of Eva, should bounce off the walls. There needs to be anger and confusion, adoration and beguilement. Martin doesn't achieve any of this. He's an admirable singer, and one can't fault him for taking few risks (it's a hard part to perform), but it doesn't match well with Roger's transcendence.
On the night I caught the show, Michael Cerveris was out, but his understudy, Bradley Dean, filled his shoes nicely. There was a resilience and misunderstood power behind his performance as Perón. Max Von Essen's Magaldi is another winner, and his "On This Night of a Thousand Stars" is a highlight of the show. His voice is crisp perfection.
Webber and Rice's work holds up well. The show, completely sung from start to finish, is a quick history lesson that mostly looks at the chapter headings of Eva's life. But enough is mentioned, questioned and affirmed that we're able to learn about and appreciate this entrancing woman. It certainly helps that Roger is on board. She brings this leader to life with a command and uniqueness that may be a once in a lifetime opportunity on Broadway.
By John Soltes / Publisher / John@HollywoodSoapbox.com
Evita

Lyrics by Tim Rice

Music by Andrew Lloyd Webber

Directed by Michael Grandange

Starring Ricky Martin, Elena Roger and Michael Cerveris

Running time: 120 minutes with a 15-minute intermission

Currently playing at the Marquis Theatre on 46th Street in Manhattan. Click here for more information.

Rating: