'The Campaign' finds Ferrell, Galifianakis vying for a spot in Congress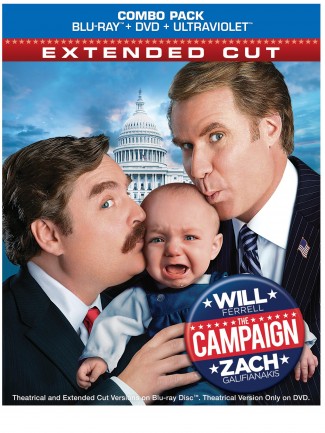 Will Ferrell and Zach Galifianakis pull everything out of their playbooks for the raunchy new comedy The Campaign. We have all of their signature facial expressions, line deliveries and oddball characterizations on display. This means for Ferrell and Galifianakis fans, the movie is a must-see. For most others, these 85 minutes are better left untouched.
Ferrell plays Cam Brady, a longtime congressman who has never had a Republican challenger in his North Carolina district. Every couple of years, he works through the electoral motions of securing his name on the ballot and then claiming an easy victory. He's one of several congressional contests that are a given.
That is until Marty Huggins (Galifianakis) throws his hat in the race. Pushed by his father (Brian Cox, included in this movie for no obvious reason) and a pair of bigwig lobbyists (Dan Aykroyd and John Lithgow), Marty becomes the GOP's hope for winning a lucrative seat in the halls of Congress. For his handlers, this means an opportunity to bring Chinese business interests to a small section of North Carolina. Cue the evil laughter. Moo-ha-ha.
The fact that Cam is a Democrat and Marty is a Republican has nothing to do with the plot. Both candidates are unqualified and foolish. The comedy, written by Chris Henchy and Shawn Harwell, has no qualms with the individual parties. Instead, the entire political system falls into their cross-hairs. One congressman's infidelity is matched by a lobbyist making a back room deal with foreign interests. Everyone in The Campaign drips with evil.
The movie has no real plot or characterization. Yes, everything is framed by an election season, but the film is much more an exercise in how much we can tolerate Ferrell and Galifianakis' increasingly tiresome form of comedy. Ferrell is playing an alternate version of George W. Bush, a character he brought to life on Saturday Night Live and on Broadway. Galifianakis is pulling from several of his movies, but there's definitely a feeling of The Hangover and Due Date present. These two comedians have officially entered Jack Black-land, and they need a dramatic role to escape the redundancy.
The script is the opposite of subtle, with most jokes of a sexual nature. Characters spout out lines of dialogue laced with profanity, all with the hope that some of them will produce a laugh. Granted, many of them do. There's an awkwardness and oddity about the film that somewhat works. Oddly enough, I found Dylan McDermott's performance as Marty's righthand man one of the funnier aspects of the movie, mostly because the serious actor plays against type.
Director Jay Roach can make these films with his eyes closed, at least it would seem. His edict, along with the screenwriters, is that more is more. Give us more one-liners, more zaniness, more vulgarity. This will likely keep people laughing, but when it comes time for the inevitable serious parts toward the end, they don't feel well-earned.
The Campaign had a tremendous opportunity to eviscerate American politics and the sluggish system of Washington, D.C., governance. To a certain degree, the film achieves that goal. Underlying the profanity is a disdain for politicians with a long leash. But still, the movie only runs 85 minutes, and for every thoughtful jab at the political system, there's another needless one-liner that seems like a cheap means to gain an easy laugh.
By John Soltes / Publisher / John@HollywoodSoapbox.com
The Campaign

Directed by Jay Roach

Written by Chris Henchy and Shawn Harwell; story by Henchy, Harwell and Adam McKay

Starring Will Ferrell, Zach Galifianakis, Dan Aykroyd, John Lithgow, Dylan McDermott, Jason Sudeikis and Sarah Baker

Running time: 85 minutes

Rated R for crude sexual content, language and brief nudity

Rating: