'The Cabin in the Woods' provides thrills, laughs, some winks for genre fans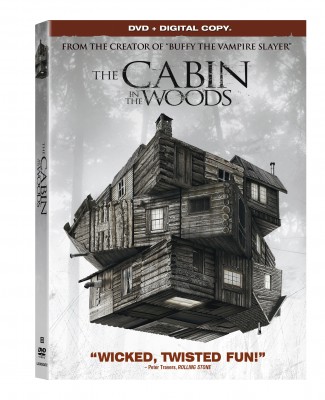 Joss Whedon is on a hot streak. His recent superhero flick, The Avengers, grossed more money than most movies throughout the history of cinema. His TV shows, including Firefly and Buffy: The Vampire Slayer, are still beloved classics. And now he throws in a satisfying genre cupcake for horror fans.
Serving as co-writer of The Cabin in the Woods with Drew Goddard, Whedon knows how to spin a clever yarn and use convention in a provocative manner. Goddard, who directs the 95-minute movie, also seems to have a lot of the fun with the uniqueness of the storyline. Count The Cabin in the Woods as one of those rare horror surprises: a genre movie with a touch of self-respect … and zombies.
The premise is absurdly familiar. Five college students — played by Kristen Connolly, Chris 'Thor' Hemsworth, Anna Hutchison, Fran Kranz and Jesse Williams — head to the woods for a relaxing weekend in a deserted cabin. They go swimming. They play truth or dare. They kiss and scare one another in the dark. In other words, they're red meat for whatever is lurking outside the door.
What actually lurks on the outside of the cabin is too good to reveal. It's safe to say that most audience members will be completely caught off guard by the revelations — although it's pretty obvious from the beginning of the movie that something is awry. The entire presence of Bradley Whitford's and Richard Jenkins's roles should tip off audience members.
Whedon and Goddard's script is funny and inventive, but not in the been-there-done-that style of the Scream franchise. Instead, they are able to craft a plot that simultaneously uses genre conventions and mocks them. The fact that the cleverness eventually grows tiresome is not for lack of ambition.
The energy behind The Cabin in the Woods is one of the movie's strongest attributes. The action never stalls, and the characters are always two steps away from life-or-death situations. Although it's difficult to classify the cinematic experiment as scary, it does thrill audience members who probably won't know what's happening until the very end (and what a finale!).
The acting is tough to consider given the unusual story. The actors are all terribly typical, and that probably fits the movie just fine. This may be the only genre flick where bland line readings and constant screaming works perfectly.
There's no denying that Whedon is on a hot streak that is unmatched in Hollywood. It's great seeing what's up his sleeve.
By John Soltes / Publisher / John@HollywoodSoapbox.com
The Cabin in the Woods

Directed by Drew Goddard

Written by Goddard and Joss Whedon

Starring Bradley Whitford, Richard Jenkins, Kristen Connolly, Chris Hemsworth, Anna Hutchison, Fran Kranz and Jesse Williams

Running time: 95 minutes

Rated R for strong bloody horror violence and gore, language, drug use and some sexuality/nudity

Rating: