'Arbitrage' features one of Richard Gere's finest performances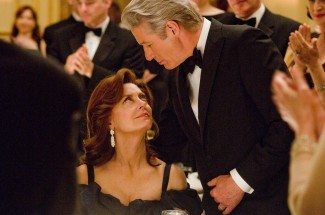 Nicholas Jarecki is a person to watch in Hollywood. The up-and-coming writer-director is the man behind Arbitrage, a business-blue thriller featuring an exquisite performance from Richard Gere.
The movie, currently available on VOD and playing in theaters, is a film in the same vein as last year's Margin Call. The economic collapse, with its confusing terms of hedge funds, stocks, liquidation, etc., has inspired filmmakers to comment on the bruising reality of America's economic misadventures.
Arbitrage serves two purposes simultaneously. First, it's quality popcorn entertainment, spinning an invigorating tale, much like the great suspense features of TCM land. Secondly, it's a living, breathing testament to the plight of the "head honcho" in 2012. The mega-business owner has become a Shakespearean character, worthy of inspection and scrutiny. Gere enlivens the stereotype quite effectively, balancing between loathsomeness and enticement.
Gere plays Robert Miller, a rich man who can make the cover of Forbes and scoff at the publicity. His wife (Susan Sarandon) stands by his side, while his ambitious daughter (Brit Marling) serves as the company's chief investment officer and follows in the old man's footsteps. Circling around the family and Robert's business is a cadre of suits, all deferring to the genius of the big man with the big office.
Robert lives a seemingly perfect life, but behind the smiles and champagne toasts there's great sorrow and villainy. First off, he's a crooked businessman who dabbles in fraud. If he doesn't sell his company to a prospective buyer, his investors and the police might be knocking on the door. Secondly, Robert has been living a lie at home. He has a girlfriend on the side (Laetitia Casta), and she wants more time with the big man. When they can sneak away to the countryside, the consequences turn deadly. Tim Roth turns up as the detective hot on the heels of unraveling Robert Miller.
The best way to approach Arbitrage is by not knowing too much more of the story. The trailer is an exercise in obviousness. Watch it, and you've pretty much spoiled the entire film. My summarizing will end here, but it should be noted that Nate Parker offers an excellent performance as Jimmy Grant, one of Robert's friends. How he fits into the picture should be reserved for those who commit to watching the entire movie.
Jarecki is an adept writer and director. The plot moves along quickly, and there are several scenes of gripping intensity. The best sequence involves a park scene where Robert and his daughter confront each other about the secrets that have surfaced. The acting from Gere and Marling is perfect, so much so that they may have earned their spots in the Oscar short list.
Sarandon, one of our very best, turns in a beautifully nuanced performance. The role of Ellen Miller could have been a throwaway character, a woman relegated to tears on the pillow. But Sarandon makes Ellen a vital part of the story. She may not be as business savvy as her husband, but she's no pushover. When something doesn't cut her way, she wants answers and has very little patience. It's in Ellen's strong character that Arbitrage comes off like a well-rounded feature film.
For a quality movie that feels like the work of a master (even though it's coming from a novice), Arbitrage will delight audiences and the buzz may carry all the way to award season. These 108 minutes will remind viewers why we enjoy movies so much.
By John Soltes / Publisher / John@HollywoodSoapbox.com
Arbitrage

Written and directed by Nicholas Jarecki

Starring Richard Gere, Susan Sarandon, Brit Marling, Tim Roth, Laetitia Casta and Nate Parker

Running time: 108 minutes

Rated R for language, brief violent images and drug use

Rating: