Broadway gets ready for the Christmas season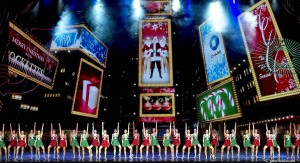 This holiday season, there's plenty of reason to celebrate on Broadway. While the mainstays continue to stay put (Jersey Boys, Mamma Mia!, Spider-Man: Turn Off the Dark), new limited engagements are coming to midtown Manhattan to share some Christmas cheer.
• One of the most anticipated shows is A Christmas Story, The Musical, which has played regionally, but never in New York City. Directed by John Rando and choreographed by Warren Carlyle, the show will begin performances Monday, Nov. 5 at the Lunt-Fontanne Theatre and continue until Sunday, Dec. 30. Availability will likely become difficult in the days leading up to Christmas. Plan early for this one and consider taking the children in the month of November. Tickets range from $49 to $159. Click here for more information.
• Elf the Musical will return to Broadway for a limited engagement. The musical, based on the hit Will Ferrell movie, will once again take residence at the Al Hirschfeld Theatre. Although the show has been seen in New York, there's a new Santa in town. Seinfeld's Wayne Knight will play Old St. Nick. Performances begin Friday, Nov. 9 and continue until Sunday, Jan. 6. Tickets run $49 to $160, with the cheapest seats in early November and the week after Thanksgiving.
• Dr. Seuss' How the Grinch Stole Christmas The Musical played Broadway a couple of times, and now it returns to the Big Apple, but just a few blocks away. The "mean one" will set up camp at the Theater at MSG from Dec. 13 to Dec. 30. Tickets range from $40 to $140. The folks at MSG also present the Radio City Christmas Spectacular at Radio City Music Hall. Performances run Nov. 9 to Dec. 30, with prices starting at $46 and rising to $299.
• The New York City Ballet will once again their annual performances of George Balanchine's The Nutcracker. Often considered the best Christmas ballet in town, the two-hour show is a perfect offering for both young and old audience members. Performances run Nov. 23 to Dec. 30, and tickets normally go quicker than a sugarplum fairy can twirl.
By John Soltes / Publisher / John@HollywoodSoapbox.com