'The Cove' sheds light on slaughter of dolphins in Japan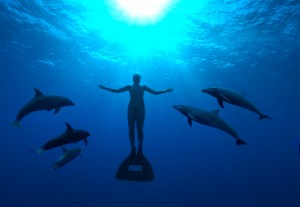 The Cove, the Oscar-winning documentary from 2009, is still just as powerful a film three years after its original release. The story of one man's journey to expose the horrific slaughter of dolphins in Taiji, Japan will shake viewers to the core. It's almost impossible to walk away from the movie without becoming emotional over the plight of these majestic marine animals.
What makes the 90-minute documentary so inspired is not just what it has to say about the dolphins and their difficulties, but how the story is discovered. Filmmaker Louie Psihoyos casts the action of the film against the backdrop of a cinematic thriller. His team of experts, along with dolphin guru Ric O'Barry, documents all of the secretive efforts to film the dolphin slaughter in a tucked-away cove in Taiji. Even though the final 10 minutes show the ultimate fate of these dolphins, it's the journey to this unbelievable finale that sticks with the viewer. The difficulty of the media to penetrate this remote fishing town is on parallel with Area 51. It appears from the footage in the documentary that no one wants the truth exposed, likely because of the tumult that would surely materialize.
O'Barry becomes the hero of the film, and any representative of the Japanese fishing industry comes off as misinformed and in denial. The country's actions with the International Whaling Commission are portrayed as similarly misguided.
The story doesn't begin and end in Taiji. According to Psihoyos' film, the meat from the dead dolphins makes its way across Japan, sometimes under the guise of whale meat. The mercury in this meat is astronomical, according to the film's subjects. The dolphins that escape death (mostly bottled-nosed dolphins, like Flipper) are sold to aquariums and dolphin shows.
The Cove is activist cinema, for sure. But after watching these bloody images and finding out the truth, it becomes impossible not to be motivated. Before watching the movie, one can claim ignorance. After receiving such vivid visuals, ignorance is no longer an option.
By John Soltes / Publisher / John@HollywoodSoapbox.com
The Cove

Directed by Louie Psihoyos

Written by Mark Monroe

Featuring Ric O'Barry

Running time: 92 minutes

Rated PG-13 for disturbing content

Rating: