'Hatfields & McCoys' REVIEW: Where's Kevin Costner when you need him?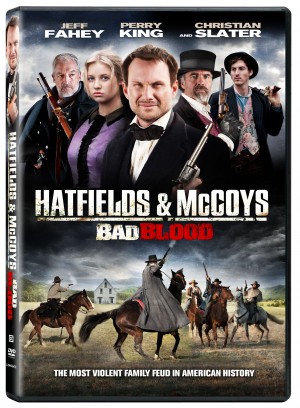 Don't be fooled into thinking that the new Lionsgate movie about the Hatfield-McCoy feud is similar to the recently wrapped miniseries on The History Channel starring Kevin Costner. The Lionsgate film, called Hatfields & McCoys: Bad Blood, is a fairly pathetic attempt at historical showmanship, and it will likely be forgotten in due course. Do not make the rental mistake by chasing down this dud.
There's almost nothing to enjoy in writer-director Fred Olen Ray's film, which comes in at less than 90 minutes. The acting is borderline atrocious, with only Jeff Fahey and Perry King offering the hint of a heartbeat. The writing is a patchwork of slogans (I almost thought one character was going to say, "I said good day, sir!"). The visuals are decent, but many of the old buildings feel too theatrical and low-budget. Worst of all, the story never revs up and simply stops after the battles begin. There's no real feuding between the clans; men are shot and blood boils a little more. That's about it.
Christian Slater turns up for a few select scenes as the governor of Kentucky, but his entire storyline is too separate from the action along the border of West Virginia and Kentucky, where the families stake their ground.
Even though the DVD cover art promises "the most violent family feud in American history," the film features almost no action or violence. The Civil War is raging somewhere off screen, but the entire historical backbone of the story is missing. One character makes reference to slavery being bad, but other than that throwaway line, it's as if these characters are operating in a fantasy novel. They live their lives out in the wilderness, and for some reason they hate the people across the river. Without appreciating the history and setting the story in some historical framework, the Hatfields and McCoys come off as petty aberrations.
History books have taught us that the cutthroat feud between the McCoys and Hatfields was monumental and likely changed the course of a generation. Where is that drama in Bad Blood? Where is that sense of importance?
The movie, much like its victims, is dead on arrival.
By John Soltes / Publisher / John@HollywoodSoapbox.com
Hatfields & McCoys: Bad Blood

Written and directed by Fred Olen Ray

Starring Jeff Fahey, Perry King, Christian Slater, Tim Abell and Priscilla Barnes

Running time: 90 minutes

Rated PG-13 for some violence

Rating: