'Peep and the Big Wide World' is simple and simply good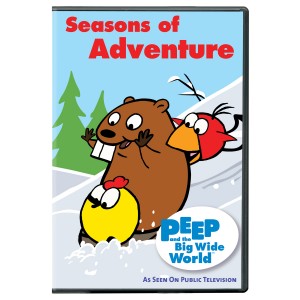 Warning! Danger ahead! Parents take note!
The adventures of Peep, Chirp and Quack are cute and adorable, but they will test the patience of many adults. Peep and the Big Wide World is definitely a show best enjoyed by kids of a young age.
It's not that the PBS program is necessarily bad. In fact, much of the humor and storytelling is quite imaginative. The issue with the TV series is that the animation style is so basic and the characters so goofy that there's just not enough to hold a person's interest for too long. One's mind will stray, almost immediately.
On the other hand, children will absolutely fall in love with Peep and his friends. As they look up at the nighttime sky, frolic in a field or travel down a snowy hill, kids will long for the outdoors and the wonders of nature. (Hopefully, they will put down the DVDs and head out into the sun.)
Peep and the Big Wide World is now available on DVD thanks to a couple of compilation sets from PBS. Star Light, Star Bright and Seasons of Adventure each include eight segments (four episodes), all of them featuring Peep the yellow chicken, Chirp the red robin and Quack the purple duck. But don't expect to know exactly who these characters are by looking at how they're drawn. Peep, for example, is a round ball of yellow, with a red feather on top of two large eyes and a skinny nose. No mouth is visible. Quack wears a sailor hat and looks like a large grape — definitely not a duck. Chirp is the strangest of them all (and probably the cutest). The animal's large orange beak overtakes his body, and three sprigs of hair stick off the top of his head.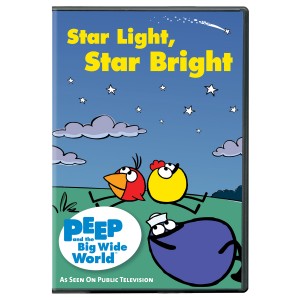 The adventures of these three characters, all narrated by Joan Cusack, usually involves other creatures in the animal kingdom, including beavers and squirrels. Everything is focused on nature and science, but on a very basic level. Older children will have learned these lessons already, so keep Peep's antics reserved for the youngest crowd.
The DVD sets include printable coloring pages for those who want to jump beyond the television screen.
Seasons of Adventure includes "The Mystery of the Thing That Went and Came Back," "Peep's Color Quest," "Snow Daze," "Flower Shower," "Who Stole the Big Wide World?," "M-U-D Spells Trouble," "Quack Quack" and "One Duck Too Many."
Star Light, Star Bright includes "The Sounds of Silence: Parts 1 and 2," "The Tooth, the Whole Tooth and Nothing but the Tooth," "The Winter of a Quack's Discontent," "In a Bind," "Star Light, Star Bright," "Bedtime Story" and "The Deep Duck Woods."
By John Soltes / Publisher / John@HollywoodSoapbox.com
Peep and the Big Wide World: Star Light, Star Bright

Peep and the Big Wide World: Seasons of Adventure

8 segments each, 4 episodes each

Running time: 100 minutes

Rated: TV-G

Rating: