DVD REVIEW: East meets West on 'Simply Ming'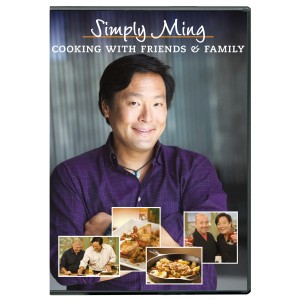 Cooking shows on DVD are a tough sell, but there's something so desirous about Ming Tsai's PBS show that his greatest hits DVD is a no-brainer for foodies. Simply Ming lives up to its title; these dishes are delectable and seemingly easy to prepare.
Each episode focuses on a variety of dishes, all brought to life by Tsai and a guest cook, usually someone from his family or circle of friends. Jacques Pepin stops by, plus Andrew Zimmern from the Travel Channel. The entire Tsai family even congregates for some pressure cooking.
Each installment is presented as if it were airing on television, which makes the DVD feel somewhat extraneous. Cooking shows are probably best reserved for repeat airings on their designated channel, but having Simply Ming on DVD allows viewers to dive into each recipe, hit the pause button when something gets too complicated, and skip ahead when a dish doesn't look too appetizing. Although viewers will be hard-pressed to find anything that doesn't look scrumptious.
Every dish included on the DVD comes with an accompanying recipe that can be printed out. There's also a "Ming's Cooking on the Fly" pantry list.
As a host, Tsai presents his information in an easy-to-understand manner, allowing time for his smooth voice and helpful hints to sink in. He makes his unique East-West dishes look easy, even though some of the ingredients can be obscure and some of the cooking practices can be difficult. (Where does one find Alaskan butterfish in the lower 48?)
Simply Ming: Cooking with Friends & Family is best suited for people who have already drank Ming's Kool-Aid, or eaten his oven-roasted vegetables. For most others, it's best to catch an episode on PBS.
By John Soltes / Publisher / John@HollywoodSoapbox.com
Simply Ming: Cooking with Friends & Family

Featuring Ming Tsai, Jacques Pepin, Andrew Zimmern, Masuhara Morimoto, Joanne Chang and Jonathan Waxman

Running time: 160 minutes

Not Rated