New 'Wolverine' anime features Logan in Japan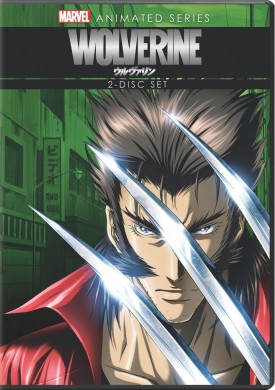 The new two-disc DVD set of Wolverine, Marvel's anime series, features all 12 episodes of Logan's adventures in Japan. After Mariko Yashida is taken from Wolverine's clutches, it's up to the superhero to travel to Asia and face off against Mariko's domineering father Shingen. Eventually he employs the help of Yukio, an assassin who skirts the line between enemy and friend, and the two wreak some stylized havoc.
Much like the Blade anime (review here), Wolverine adapts the popular comic-book hero into a darker, more violent setting. Logan looks leaner than his previous incarnations, sporting skintight clothes and a perfectly ridiculous haircut. His blades are powerful and fly through the air toward his unsuspecting victims. There's even one sequence in the premiere episode where Wolverine stops a fall from a skyscraper by planting his blades in the side of a building.
Unlike Blade, which looked great, but was undone by its style, Wolverine values smart pacing and in-depth storytelling. When the inevitable action occurs, there's the flurry of crazed animation present and accounted for. But in between the battles, Logan acts like a spy, trying to figure out the ins and outs of Shingen's dominance and Mariko's whereabouts.
Fans can watch the anime with an English voiceover (Milo Ventimiglia from Heroes voices Logan), or in Japanese with English subtitles.
Director Hiroshi Aoyama has adapted the epic story of Logan fairly well. There's not much of an origin tale. Instead, the main story arc starts right away and never seems to let up. The director's smartest decision was slowing everything down, so the characters and viewers can catch their breath. The anime takes its time in the detective work, and even the battles feature elongated sequences and effective turning points.
The scenes ooze with an anime atmosphere, and many of the story lines seem pulled from samurai legend. Although blades are the weapons of choice, everything in the series is based on methodical back-and-forth wars — almost like we're watching a great martial arts routine.
By John Soltes / Publisher / John@HollywoodSoapbox.com
Wolverine: Marvel Animated Series

Now available on DVD from Sony Pictures Home Entertainment

Features 12 episodes and all-new featurettes

Running time: 284 minutes

Not Rated

Rating: