'Fizzy's Lunch Lab: Fresh Foods 101' teaches kids the best things to eat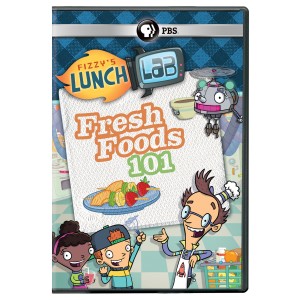 The animation style behind Fizzy's Lunch Lab: Fresh Food 101, recently released on DVD from PBS Kids, is very similar to Hey Arnold!, one of the best Nickelodeon cartoons of all time. Characters are drawn in a myriad of shapes, all depending on their personality. Take Professor Fizzy, a brainiac when it comes to food. His head looks like an upside-down pear, almost like a lightbulb. His mean nemesis, the purveyor of Greasy World, is uglier and homelier, much more roundish. The colors are vibrant, and the creativity is evident in every scene.
Creators Dave Schlafman and Evan Sussman have created an educational series that brilliantly teaches vital lessons and throws in some stupid humor as well. The Fresh Food 101 DVD features a number of webisodes and music videos, plus "Lunch Lab Live!" segments. Everything is short and to the point, absent of meandering plot lines and extraneous characters.
All of the food groups are present and accounted for, including whole grains, veggies and fruits. There are also catch-all episodes that promote better eating practices. For example, Professor Fizzy prepares for a morning inspection by the mayor, but he forgets to eat his breakfast. Viewers are then treated to a 4-minute lesson on why eating breakfast is so important.
For parents, it's best to hit the "Play All" feature and let the episodes go through the entire 70-minute duration. Otherwise, you'll be stuck stopping and playing every few minutes. Fizzy's Lunch Lab relies on its brevity: Get in, get out, and leave a few educational morsels along the way.
When most cartoons are featuring lessons about bullying, sharing and multiculturalism, Fizzy's Lunch Lab takes the smart route of focusing on nutrition. With obesity such a large problem among children and adults, these life lessons are important, and when they're presented in such a fun manner, they're probably getting through better than most messages.
By John Soltes / Publisher / John@HollywoodSoapbox.com
Fizzy's Lunch Lab: Fresh Foods 101

Now available on DVD from PBS Kids

Special features: printable recipes and activities

Running time: 70 minutes

Not Rated

Rating: