'Out' features an eerie performance from Tom Bell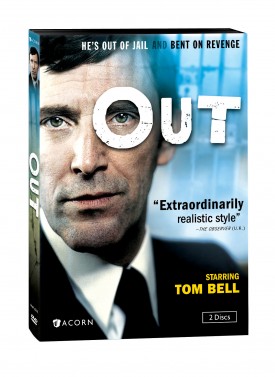 Tom Bell's performance in Out is eerily effective. He's so unusually good that it also proves to be the fatal flaw of this six-part British TV series. Playing Frank Ross, a man recently released from prison after a failed bank heist, Bell is the definition of steely. He looks at everyone with eyes made of glass, never offering the hint of an emotion or upturn of a smile. This keeps the character on task, but also distant. We never get to truly know him as a man, even though we spend more than 300 minutes watching his unraveling.
Out, now on DVD from Acorn Media Group, has a premise that has been bastardized many times over. In some ways, it's an "after prison" movie, while other times it's the "old friend is back in town" tale. This means the viewer must sit through a lot of awkward silences, welcome-back parties and settling of old scores. This is usual fodder for crime thrillers and mobster movies, especially when characters constantly go in and out of prison.
Out stays focused on Frank and his tribulations, which are quite steep. His wife has served time in a mental hospital. His son is gone, having grown up in a different household. As he puts it, the old homestead feels like a "mausoleum." His old friends either don't want to talk about the past, or they don't know what to say in his presence. Everything is a little bit off, as if this cast of characters had written Frank off a long time ago.
The largest change is time itself. It's now the painfully cliche 1970s, so disco music plays on the radio and everyone's collar is a few inches longer. Adjustment to the new era is almost as difficult for Frank as meeting up with old acquaintances.
It doesn't take long (by the end of the first episode) for old fights to flame up and lines to be drawn between friends and enemies. Even though everyone else continued on with their peaceful lives, Frank had eight years to think about the person who gave his name up for a failed bank heist. And he wants revenge.
Even though a young Brian Cox turns up as a villainous boss, the star power here is Bell's performance. There's really no equivalent to his character on TV (maybe Bryan Cranston's performance in Breaking Bad). He's a hardened criminal who can read the average person in a few seconds. He rarely apologizes and willingly gets sucked back into the bad life.
Out has an absence of heroism, and this makes it difficult to root for any one person. We are driven to find out what happens next, but there's no emotional attachment to the plot. Perhaps if Frank were more sentimental or less serious than we could understand him and his motives a little bit better. As it stands, Out is a nice snapshot of British television, circa disco ball. It features good performances, a gritty atmosphere in South London and catchy dialogue. Other than that, it's a bit dated.
By John Soltes / Publisher / John@HollywoodSoapbox.com
Out

Acorn Media Group's 2-disc set includes episode commentaries by the writer, director and producer

6 episodes, 302 minutes

Starring Frank Ross and Brian Cox

Running time: 302 minutes

Not Rated

Rating: