'WordGirl' balances education with superhero fun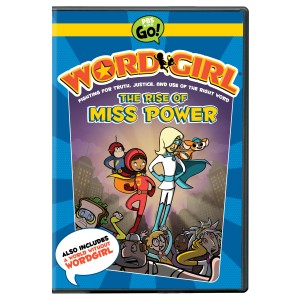 WordGirl, the PBS Kids program that promises enriched vocabulary skills and better reading comprehension, has figured out the perfect formula for children's entertainment. Rather than presenting educational lessons in a boring and ineffective format, the program molds together subtle (and some not-so-subtle) language skills with an action-packed superhero adventure. For kids, this is as good as chocolate donuts, but a whole lot better for them.
In the recently released DVD, WordGirl: The Rise of Miss Power, audience members get a chance to jump beyond the short episodes and spend some time with the titular character and her diabolical foes. The TV movie feels like an elongated episode, but it delves deeper into reading comprehension and dastardly plans to take over the world. All of the enjoyable characters are present and accounted for, including Col. Giggle Cheeks and Captain Huggy Face.
The villainess this time around is Miss Power, a blonde-haired baddie with a penchant for using bad words. It's up to WordGirl to save the day and teach some new vocabulary words along the way. Guess who wins?
The TV movie is mostly harmless fun, but it does outstay its welcome after 30 minutes. The adventures of WordGirl are best relegated to a quick episode featuring a few words, a few laughs and a few high-flying stunts. Anything too complicated or elaborate undermines the central theme of the show.
In the end, WordGirl is the type of show that parents can feel comfortable showing to their children. This isn't brainless entertainment. It's more Sesame Street than Spongebob, and in today's world of hyper-stupidity, that's saying something quite profound. There's room for educational shows (in the same vein as Arthur and The Magic School Bus), but story and characterization can still play a vital part. Young viewers will be enthralled, while older viewers will be pleasantly surprised.
By John Soltes / Publisher / John@HollywoodSoapbox.com
WordGirl: The Rise of Miss Power

DVD set includes A World Without WordGirl, interactive games, video shorts and coloring pages

16 new vocabulary words are presented, including obligation, enchanted, unusual and ploy

Running time: 70 minutes

Not Rated

Rating: