'Potted Potter' heads out across the United States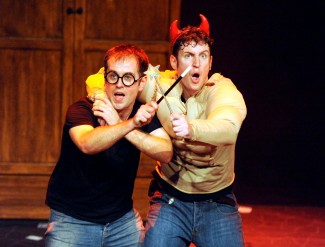 The hit parody show Potted Potter: The Unauthorized Harry Experience will soon end its limited engagement run at New York City's Little Shubert Theatre, 422 W. 42nd St. But if you can't make it to the Big Apple before Sept. 2, no worries. Daniel Clarkson and Jefferson Turner are taking their 70-minute laughfest on the road in the coming months.
Recently, producers with Potted Potter announced several touring dates, which are extensive and spread out across the United States. Announced cities include Chicago; Detroit; Hartford, Conn.; and Bangor, Maine.
Here's the full schedule:
• Manitoba Theatre of Young People in Winnipeg (Nov. 7-11)
• Broadway Playhouse in Chicago (Nov. 13-Dec. 16)
• Proctor's Art Theatre in Schenectady, N.Y. (Jan. 15-Jan. 20)
• The Levoy Theatre in Millville, N.J. (Jan. 23)
• Tilles Center for the Performing Arts in Greenvale, N.Y. (Jan. 25-26)
• Gracie Theatre in Bangor, Maine (Jan. 27)
• Omaha Performing Arts Center in Omaha, Neb. (Feb. 7-10)
• Missouri Theatre Center for the Arts in Columbia Mo. (Feb. 13)
• Walter Arts Center in Fayetteville, Ariz. (Feb. 16-17)
• Mesa Arts Center in Mesa, Ariz. (Feb. 21-23)
• City Theatre in Detroit (March 6-17)
• The Living Arts Center in Mississauga, Ontario (March 12-14)
• The Bushnell Center for the Performing Arts in Hartford, Conn. (May 17-26)
"After a wildly successful extended run at New York's Little Shubert Theater we are delighted to finally hit the road," stated Corey Ross, president of Starvox Entertainment, in a press release. "Potted Potter is a wonderfully entertaining time for all ages, both fans and neophytes of the Harry Potter phenomenon alike and we are planning for even more tour dates into 2013."
The show will also head to the Philippines, Singapore, Hong Kong, Australia and South Africa in fall 2012.
For all things Potted Potter, click here.
Click here for Hollywood Soapbox's interview with Dan and Jeff.
By John Soltes / Publisher / John@HollywoodSoapbox.com