'Cinnamon' is dog-gone awful, but that Maltese is cute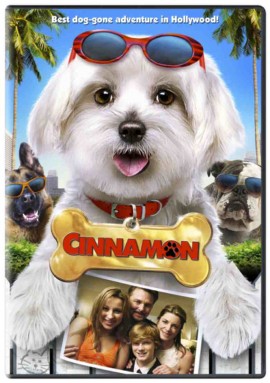 There's cute dogs with sunglasses on its cover. There's a neat slogan ("Best dog-gone adventure in Hollywood!"). A picture of a darling family featuring a mother, father, daughter and son tie everything together. Who wouldn't fall in love with Cinnamon, the new family film from ARC Entertainment?
After enduring these tiresome 91 minutes, it turns out those pets with sunglasses are no fun at all. Chalk it up to unoriginality or plain laziness, but Cinnamon is a bore through and through. Its story, written by Michael Feifer, feels like it's been done a million times before. Its cast of actors are serviceable, at best. The dogs at the center of the story, including the title character, make for humorous moments, but after 20 minutes the story forgets about the dogs and centers around the humans. Plus, the voices for the dogs are brought to life by screech-worthy young actors who talk like annoying teenagers.
One look at Feifer's resume and it become clear that he pumps out these family-friendly flicks quite quickly. He probably means well, and younger audience members will likely laugh, but adults will find it near-impossible to make it to the inevitable conclusion.
Cynthia Gibb plays Madeline, a single mother who cherishes her Maltese puppy named Cinnamon (voiced by Brenda Song). The little pooch needs to share her human mother with Kevin (Greg Evigan), Madeline's new boyfriend, but the results don't exactly work out. Both Madeline and Kevin have commitment issues, and their dogs always seem to get in the way. After Cinnamon goes missing, it's up to her human friends to help out.
The animal cast is impressive and spot-on with the humor. Of course, they're made to do ridiculous stunts, but Cinnamon's laughs are mostly in good fun. The kids will likely fall in love with the title character and the story. But in the age of Pixar and DreamWorks, audience members should ask more of their family-friendly fare. With Toy Story, Brave and Shrek, Hollywood has come to realize that characterization and plot doesn't have to be sacrificed for kiddie humor. Family films can be intelligent, educational and engaging.
Cinnamon feels like a heartfelt try by a well-meaning cast and creative team. They are never shooting for the fences and seem completely content with making the youngsters smile at the sassy dogs on screen. The adults in the room are the ones left searching for genuine entertainment value.
By John Soltes / Publisher / John@HollywoodSoapbox.com
Cinnamon

Written and directed by Michael Feifer

Starring Cynthia Gibb, Greg Evigan, Ashley Leggat, Ciara Bravo, Brenda Song, Lesley-Anne Down and Robert Carradine

Running time: 91 minutes

Rated PG for mild thematic elements

Rating: