'Salmon Fishing in the Yemen' is almost able to swim upriver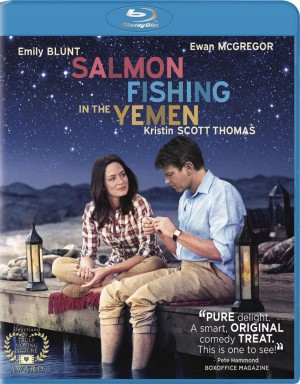 Salmon Fishing in the Yemen, the new Lasse Hallström movie starring Ewan McGregor and Emily Blunt, starts off like a sweet romantic comedy with two endearing characters. Harriet (Blunt) works as the official representative of Sheikh Muhammed (Amr Waked), a visionary with a seemingly endless amount of money. When her boss dreams of salmon fishing in Yemen, and bringing a new agricultural backbone to his country, it's up to Harriet to make it happen.
Enter Dr. Alfred Jones (McGregor), a fisheries expert who works for the government of Great Britain. Although his mundane days are typically relegated to an office chair, he tries to see the positives in life. Whether teasing his boss (Conleth Hill) or conversing with his distant wife (Rachel Stirling), Jones is living what he believes is a comfortable status quo life.
When Harriet contacts Alfred for his expertise, the fish expert laughs off the suggestion that British salmon could successfully be introduced to a Middle Eastern river. But after persisting, Harriet is able to tear down Alfred's preconceived notions, and the two begin work on the expansive project.
Another thread of the story involves Patricia Maxwell (Kristin Scott Thomas), the overzealous press secretary of the prime minister. She grabs hold of the salmon story and sees a great PR stunt. This cross-cultural project could impress British voters looking for some good news out of the Middle East. The entire movie, based on the book by Paul Torday, is set to the backdrop of the escalating war in Afghanistan.
The plot and characters make for some nice scenes in the first hour of the movie. Scott Thomas's portrayal of the press secretary is certainly the highlight; she steals every scene she's in, making for a hilarious comedic role. McGregor and Blunt are nicely matched, even though their spark takes a while to develop. They're both so professional and standoffish that they call each other by their surnames for a long time. Waked is also a great addition.
It doesn't take a fortune teller to realize where the story heads in its final scenes. Alfred and Harriet are attracted to each other, and the project begins to show promise. If it were to head down this inevitable road, Salmon Fishing in the Yemen would have turned out to be a fine small film that layered on the sweetness like cake frosting. Instead, Simon Beaufoy's screenplay introduces a contrived plot involving Harriet's soldier boyfriend that undermines much of the film. There's always a suspension of reality in movies, but this extra thread pushes the plot over the threshold.
Hallström, one of our finest directors, is able to find beauty in the backdrops for both Great Britain and Yemen. The fishing references peppered throughout the script are also a nice touch, and the actors are likable.
What could have been a smart comedy built around current events turns into a so-so romcom that features one too many conveniences. Rather than reaching for a salmon, the filmmakers settle for a guppy.
By John Soltes / Publisher / John@HollywoodSoapbox.com
Salmon Fishing in the Yemen

Directed by Lasse Hallström

Written by Simon Beaufoy; based on the novel by Paul Torday

Starring Emily Blunt, Ewan McGregor, Kristin Scott Thomas and Amr Waked

Running time: 107 minutes

Rated PG-13 for some violence and sexual content, and brief language

Rating: