THURSDAY GUIDE: Official Star Trek Con gets ready for Vegas!

Click here for a guide to Friday events.
Click here for a guide to Saturday events.
Click here for a guide to Sunday events.
The largest Star Trek convention in the world is ready to beam down to the Rio All Suites in Las Vegas, Aug. 9-12. In its second year at the Rio, Creation Entertainment has a lot of fan favorites returning for the four-day event, plus plenty of new options for longtime enthusiasts. For Trekkers, there's simply no other place to be but at the Rio next weekend.
To receive a preview of what Creation's Star Trek festivities are like, check out William Shatner's new documentary, Get a Life!, currently playing on Epix. The behind-the-scenes documentary was filmed at last year's event, which was a hallmark convention, featuring the final Vegas appearance of Leonard Nimoy, plus Shatner, Patrick Stewart, Kate Mulgrew, George Takei, Nichelle Nichols and so many more.
In 2012, the guest list is equally impressive. Although Stewart won't be attending, the four other captains will stop by, including Shatner, Mulgrew, Scott Bakula and Avery Brooks. Other big names include Jonathan Frakes, Brent Spiner, Ron Moore, Michael Dorn, Marina Sirtis, Colm Meaney, LeVar Burton, Takei, Nichols and Ben Vereen.
Here's a guide to the basics and Thursday's lineup. Expect more convention guides in the coming days …
BASICS
The action at the Official Star Trek Convention is split among several different areas at the Rio All Suites. First things first, if your'e staying for the whole weekend, definitely book a room at the Rio. There are too many events at the resort not to take advantage of a suite. There's plenty of gaming and dining options, including the Rio's world-famous seafood buffet. To break from the Trek mania, attendees can also catch a performance of Penn & Teller's successful comedy show, which plays at the resort nightly.
For those people who want some other options: The Palms is a long walk across the street from the Rio, and Bally's is only a free shuttle away. The one plus about Bally's is that it's affordable and located in the middle of the Las Vegas Strip. Of course, if price doesn't matter, then head for the top casinos in town and taxi over to the Rio. Remember: The Rio is located off the Strip and is a little too far to walk from the main drag.
In addition to the main theater, the convention spills over into a secondary theater, vendors room, photo op area and other banquet halls. Expect lines, but nothing too bad. The Rio is enormous, and last year's event ran smoothly. As of Aug. 1, many ticket options, autographs and photo ops are still available. Some special dinners and meet-and-greets are sold out, but fans will still have plenty of options to choose from.
Everything starts early and goes late. Pace yourself. You need to take breaks during the day and get away from the convention for an hour or two. If you continue from 9 a.m. to midnight every night, you'll be burned out by Saturday and may be forced to sleep through the Captains Summit on Sunday.
THURSDAY, AUG. 9
Note: Celebrity names are followed by autograph prices and photo op prices. Some guests sign in the vendors room and prices are TBA; this will be noted. Guests will appear in either the main theater or secondary theater. All information is subject to change.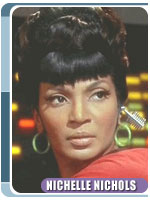 Guests: Ben Vereen ($40, $60), Gregory Itzin ($25, $40), John De Lancie (autographs in vendors room, $40), Marnie Mosiman (autographs in vendors room, $40), Rene Auberjonois ($20, $40), Ethan Phillips ($20, $40), Armin Shimerman (autographs in vendors room, no photo ops today), Jeffrey Combs ($20, $35), Casey Biggs ($20, $40), Nichelle Nichols ($50, $50), Robert Picardo (autographs in vendors room, $40), Martha Hackett ($20, $40), Jacqueline Kim ($20, $40), David Gerrold (autographs in vendors room), Chase Masterson (autographs in vendors room, $40), Bobby Clark (autographs in vendors room, $40)
Additional photo ops: Marina Sirtis ($40) and Brent Spiner ($40)
Special photo op: Rene Auberjonois and Ethan Phillips together ($55)
Special events: Theatrical presentation by Auberjonois and Phillips; William Shakespeare performance by Shimerman, Combs and Biggs; StarTrek.com panels; John Tenuto talk on Alternate Treks; Creation's daily auction; blooper reels; trivia competition; Gabriel Koerner talk
Evening events: Bingo competition (sold out); Gold celebration (sold out); screening of Trek Nation; karaoke
Tickets: Gold and Captain's Chair tickets are sold out. Preferred weekend packages ($319), general admission weekend ($149), Thursday reserved seating ($70) and Thursday general admission ($35) are available. Take advantage of this first day at the convention. Crowds are usually minimal and the best deals at the vendors room are in large supply.
By John Soltes / Publisher / John@HollywodSoapbox.com
Click here for more information. Friday, Saturday and Sunday guides will be published in the coming days.