ENDING SOON: Catch Jim Parsons in the enjoyable 'Harvey' on Broadway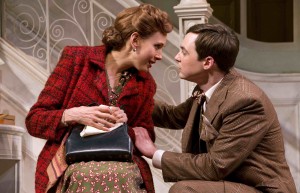 NEW YORK — Jim Parsons is making a second home out of Broadway. After last year's celebrated production of The Normal Heart, the star of The Big Bang Theory is back on the Great White Way in Roundabout Theatre Company's Harvey, the lovable play by Mary Chase. Only a few performances are left for the limited summer engagement, so act quick before this rabbit hops away for good.
The play follows Elwood P. Dowd (Parsons), a likable guy living a comfortable life in his family's mansion. The year is 1944 and mental illness is still a hush-hush topic. This makes Elwood's oddities that much more troubling to his family, especially his sister Veta Louise Simmons (Jessica Hecht, always splendid).
The problem with Elwood is not so much that he talks to an invisible rabbit named Harvey. The problem is that he doesn't see this imaginary friendship as a problem. He can't quite understand why his family and friends are embarrassed of his best friend. Can't they see the rabbit standing right there? Can't they understand he's real?
Parsons and Hecht turn in admirable performances. Hecht is a ball of worries, while Parsons is cool and collected. Larry Bryggman, one of theater's most cherished actors, shines in his brief, but effective performance. Scott Ellis' direction is slick and focused, never letting the scenes drag on.
The overall evening does grow long, but everything is so damn charming that it's easy to sit back and enjoy. It draws welcome parallels to the iconic movie starring James Stewart.
If there were an Achilles' heel, it would have to be Chase's words and lack of depth. She bases much of the plot in humor, and never lets us look at the characters in a more realistic light. Elwood remains as much a mystery at the end of the play as he did the in beginning. It's not important whether Harvey is real or not; it's important to understand the evolution of Elwood as a character. Along those lines, there's not much of an arc.
Harvey proves to be one of the better offerings on Broadway. Its imperfections are slight; its enjoyment level is quite high.
By John Soltes / Publisher / John@HollywoodSoapbox.com
Harvey

By Mary Chase

Directed by Scott Ellis

Starring Jim Parsons, Jessica Hecht, Charles Kimbrough and Larry Bryggman

Running time: 160 minutes

Currently playing at Studio 54, 254 W. 54th St. in New York City. Click here for more information.

Rating: