REVIEW: Second season of 'Alphas' starts with a super-human bang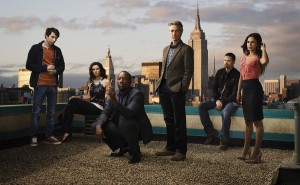 Alphas, the original series on Syfy, finished its inaugural season last summer on a high point. After Dr. Lee Rosen (David Strathairn) outed the existence of super-humans to the entire world, things became a little hairy.
The old team is back again, including Gary Bell (Ryan Cartwright), Cameron Hicks (Warren Christie), Rachel Pirzad (Azita Ghanizada), Bill Harken (Malik Yoba) and Nina Theroux (Laura Mennell), but they are separated and on opposite sides when the season two premiere begins.
Rosen is being held in a mental hospital, visited only by his daughter Danielle (Kathleen Munroe). They've healed their relationship with each other, but the audience knows that Danielle is up to something nefarious. She's buddying up with Stanton Parish (John Pyper-Ferguson), the leader of the Red Flag movement.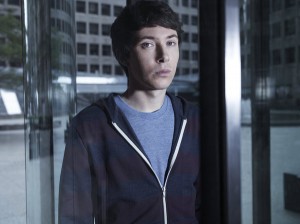 Bill and Cameron have teamed up with the government, rounding up troublesome Alphas and sending them up to the Binghamton facility. Nina walks the streets of Manhattan, hoping she can convince a boyfriend to ask her on a date. Rachel has gone somewhat mad, sitting alone in her bedroom, unable to control her powers and picking up on too many senses in the environment. Gary is the real casualty; he's being held in Binghamton, completely drugged out of his mind and away from the comforts of life he so enjoys.
After Bill and Cameron bring an Alpha to Binghamton, they realize Gary's current condition and all hell breaks loose. The Alphas stage a rebellion, and Rosen is needed to calm things down. The good doctor is released from custody in the mental hospital and brought to the facility. It doesn't take long for the situation to be diffused and the old team to regroup around its leader. They are a resourceful bunch.
The season two premiere proved to be an action-packed continuance of season one's exquisite finale. It furthers the Red Flag storyline and sets up Parish as the main villain of the series. Rosen keeps most of his credibility after outing the Alphas, speaking out against Binghamton and now rejoining the team he worked so hard to form.
A few mistakes arose: It's never clear why Bill and Cameron would team up with the government officials and Nathan Clay (Mahershala Ali). OK, it's understandable that Bill wants his career headed in that direction, but why Cameron? Didn't they realize before that Alphas were receiving harsh treatment in Binghamton? Didn't they listen to Rosen?
It's nice to have Gary and Rachel back, perhaps the best two Alpha characters. Nina needs an episode set aside for herself, so we can better understand the difficulties of her "pushing." Rosen, as always, is the most engaging character, mostly because Strathairn is able to play the role with such seriousness and thoughtfulness. The premise of this show is obviously far-fetched, but Rosen makes it all believable and real. It's nice to have him as an anchoring point.
By John Soltes / Publisher / John@HollywoodSoapbox.com