From New York to Hollywood and back again with Maggie Wagner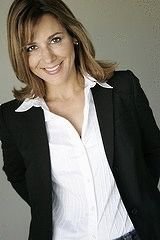 The New York International Fringe Festival always produces a motley variety of theatrical offerings from emerging playwrights and talented actors. This year, one production promises a little bit of everything, from politics to comedy to media criticism. Right on Target, written by Gary Morgenstein and starring Maggie Wagner, follows a conservative black man and his liberal Jewish wife, and how the two deal with sudden unemployment and political backlashes.
Wagner returns to the New York stage after a performance in The Diary of Anne Frank a few years ago. Her introduction to Morgenstein's work is a story unto itself. Last summer, the accomplished actress flew to New York City to work on a movie called Surviving Family. Although her scene was cut from the feature film, the producers kept her in mind when casting their next project, Right on Target.
For Wagner, who has been in more than 40 films, it's a longtime homecoming to be back on stage. "I don't get to take a break that much," Wagner said recently during a phone interview. "That's why when this came up it was like, well, I'm just going to do it. Normally I would say no to something like this, because it's such a long period of time that takes me away from Hollywood. But now there's so much stuff shooting in New York that I can still work in New York as well."
Rehearsals began recently for the play and will continue until the production is mounted at the Cherry Lane Theatre, Aug. 11-24. "It's a lot of line learning," Wagner said of the rehearsals. "I'm sort of making my way through it. It's a very interesting process."
Audiences who can't make it to New York can also catch Wagner in two upcoming horror films. One co-stars John Schneider from The Dukes of Hazzard and is a remake of The Killer Shrews, arguably one of the worst movies ever made. The project is a tongue-in-cheek parody of the original film.
"This other little experimental horror movie I did called Hate Crime is about a home invasion and it's a found footage kind of film directed by James Cullen Bressack, who is only 20 years old," she said. "It's sort of like a Paranormal Activity."
Wagner first received the acting bug when she was only 7 years old. "I had a very strange epiphany, and I was just sitting there and suddenly realized, oh, I'm an actress," she said with a laugh. "I went over to my mom and said, 'You got to get me into an acting school.' And she sent me to The Neighborhood Playhouse junior school, which was for little kids."
After going through a few theatrical exercises, Wagner decided in her 7-year-old mind that maybe pursuing a life of acting was a hasty decision. "I went home and said, 'This isn't acting.' I wanted to be on Broadway. I wanted to get up on stage. I didn't realize there were certain steps you had to take to get there. I just thought they'd put me in a show. So anyway I quit. I kind of forgot about acting."
After attending Skidmore College and seeing her sister become a television actress, Wagner ended up returning to the place of her youth. "That whole feeling came back again," she said. "I ended up going to The Neighborhood Playhouse for adults … and that was my first real professional acting school."
After performing in To Gillian on Her 37th Birthday in Philadelphia, she began to steer her career toward Hollywood. "The way to make it is through the movies," she said. "I didn't want to get stuck in regional theater and just doing plays."
Back in New York City, she joined The Actors Studio, the prestigious nonprofit that helped launch the career of many famous actors. "I can always get up on stage in New York at The Actors Studio, which is a great, amazing thing because most actors don't have that," she said. "I have a really, really good network of people."
Wagner's uncle is Mark Rydell, director of On Golden Pond and co-artistic director of The Actors Studio. "I knew they would let me come in and at least watch the class," she said.
From there, Wagner's film career began, including an early role in Anna, the Oscar-nominated film starring Sally Kirkland. And now 25 years later, she's back in New York, her old stomping ground, for a detour from the silver screen to star off-Broadway in Right on Target.
"I would love to go back to the stage," she said of her future ambitions. "I would love to be on Broadway. My dream is to be on Broadway in a Broadway show. That has always been my dream."
By John Soltes / Publisher / John@HollywoodSoapbox.com
Click here for more information on Right on Target, which plays the New York International Fringe Festival in August.