'Re-Animator' re-animates into hilarious new musical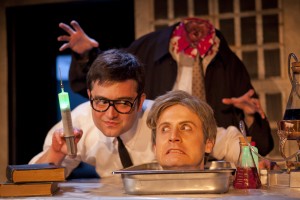 NEW YORK — Blood drenches the audience. Eye balls bulge out of skulls. Decapitations abound and mad scientists run amok. George Wendt from Cheers sings in a dress and then undergoes a lobotomy. Just another day at Re-Animator: The Musical, the often hilarious show that was a hit in Los Angeles and is currently running at the New York Musical Theatre Festival.
The 90-minute comedy, which moves onto Edinburgh Festival Fringe in August, faithfully recreates the iconic 1985 horror movie starring Jeffrey Combs. Directed by Stuart Gordon, who also helmed the movie, Re-Animator will remind New York theater audiences of the musical adaptations of The Toxic Avenger and Evil Dead — not exactly Shakespeare, but a whole lot of fun.
Herbert West (Graham Skipper) is a mad medical school student who devises a way to re-animate dead tissue. Much like Mary Shelley's Frankenstein, West sets up shop in a tucked-away laboratory to carry through with his experiments. In this H.P. Lovecraft adaptation, West heads to the basement of the house he shares with Dan Cain (Chris L. McKenna), a fellow student at the medical school.
Herbert is creepy, but Dan thinks he's harmless. Sure, the cat goes missing within a few days of Herbert moving in, but that doesn't mean he's in the refrigerator in the basement awaiting experimentation, or does it?
Rachel Avery plays Meg, Dan's girlfriend and daughter of the medical school dean (Wendt). She almost immediately picks up on Herbert's oddities and begins investigating herself. Rounding out the cast is Jesse Merlin as Dr. Carl Hill, a professor who falls into a warped competition with Herbert to be the first official re-animator.
The plot breezes by, and the laughs are well earned. The cast works tirelessly to sing Mark Nutter's music and lyrics, and they have a great time with the book by Dennis Paoli, Gordon and William J. Norris. The set is simple and effective, with one main set of doors acting as the entry and exit into these dark, dark rooms.
The cast is excellent. Wendt plays along with his younger colleagues like this were theater camp. He is fully committed to the role, even helping let the blood spill on the audience (note to ticket buyers: the first four rows are called the splash zone for a good reason). McKenna has a strong voice, and he matches up well with Skipper. Merlin is creepy perfect as the crazed doctor, and his operatic voice is the most impressive.
The on-stage gags are creative and effective. There are severed heads and glowing hypodermic needles. With bare-bones props, the musical is able to work some minor miracles.
Although everything is tongue in cheek, the one-act musical does stay faithful to the original source material by H.P. Lovecraft and Gordon's film. Only some of the humor is overt; other times, the cast just builds a world of infectious campiness, much like The Rocky Horror Show.
It's a no-brainer (pun intended): Re-Animator: The Musical deserves a longer life in New York City. I think there's a theater at New World Stages just waiting for a Halloween run.
By John Soltes / Publisher / John@HollywoodSoapbox.com
Re-Animator: The Musical

Part of the New York Musical Theatre Festival

Book by Dennis Paoli, Stuart Gordon and William J. Norris

Music and lyrics by Mark Nutter

Directed by Gordon

Musical direction by Peter Adams

Choreography by Cynthia Carle

Starring Graham Skipper, George Wendt, Chris L. McKenna, Jesse Merlin and Rachel Avery

Running time: 90 minutes

Playing at the PTC Performance Space, 555 W. 42nd St. in New York City. All remaining performances are sold out. Click here for more information.

Rating: