REVIEW: 'Decisions' marks Corey Haim's final film role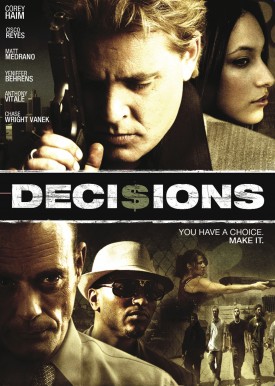 Corey Haim's final film role is in a movie that needs help in just about every cinematic department, from the script to the acting to the energy level. Decisions, newly arrived on DVD from Inception Media Group, runs a slim 87 minutes, but the story could probably have been told in 10 minutes; it's thin and barely registers.
Haim plays Lou Andreas, a dirty Los Angeles detective who has no problem calling his female partner (Karina Noelle) demeaning names, beating suspected robbers to a bloody pulp and getting involved with a criminal boss known as Frankie (Anthony Vitale, who wrote the script with director Jensen LeFlore). The entire Andreas character is underwritten and feels separate from the main storyline in Decisions. Haim's acting ability is unable to save the role or give it any bite.
The plot of the movie surrounds the underground criminal activity of a wide network of bad guys in Los Angeles. As portrayed by the cast, these characters all have horrible qualities, but there's some redeeming aspect to their personality that is supposed to give us hope they will turn their lives around.
Dave (Matt Medrano) and Serena (Yennifer Behrens) are trying to start a family and buy a house, but Dave can't pay the bills and he owes too much money to Frankie. Medrano is probably the best acting addition for the sub-par movie. He plays the only fleshed-out character, and the actor knows how to make the stilted dialogue sound somewhat believable.
To get out of his financial problems, Dave decides to plan a bank heist with a group of friends, including an aspiring rapper (Mike Foy), an aspiring DJ (George Contreras) and a few other guys willing to take the risk.
What eventually occurs at the local bank ties Dave's story with Andreas, and the results are bloody. However, by the time we reach this point in the movie, it's hard to care about anyone or anything in the story. Decisions simply can't hold anything together, and it fails to keep our interest.
To top it all off, there's a narrator who bookends the main story with a ridiculous plot point that is laughably bad. Maybe if LeFlore knew how to keep everything realistic and gritty then Decisions could be an interesting ride into the underbelly of Los Angeles and the city's crime syndicate. As it stands, the movie is difficult to endure.
By John Soltes / Publisher / John@HollywoodSoapbox.com
Decisions

Directed by Jensen LeFlore

Written by LeFlore and Anthony Vitale

Starring Corey Haim, Anthony Vitale, Matt Medrano and Yennifer Behrens

Running time: 87 minutes

Rated R for violence, pervasive language, some drug use and sexual content

Rating: