Hugh Rowland, from 'Ice Road Truckers,' talks candidly about the dangers of his job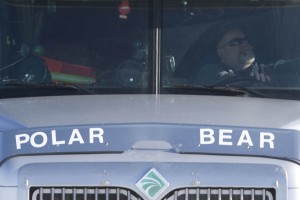 With a profession most people think is unimaginable, Hugh 'Polar Bear' Rowland takes it all in stride. The star of The History Channel's successful reality series, Ice Road Truckers, puts on his hat, revs up his truck's engine and plies through the treacherous Canadian snow in a place many believe is fit for Santa Claus, and nobody else. Rowland, a domineering personality with a peppered beard, knows about the danger of driving his trucks over the thin ice of Canada's northern reaches. But nothing stops the Polar Bear, and there's a lot of money to be earned when putting one's life on the line.
"I've done it my whole life, since I was kid," Rowland said recently during a phone interview. "That's what I do for a job, and everybody watches it on TV."
Rowland, a veteran of the reality series, said he was first contacted by The History Channel several years ago. At first, he didn't take the call seriously. "They gave me a call and they said, 'We'd like to put some cameras in your trucks and follow you to Yellowknife.' I said, 'Well, ice roads are over. I just got home. You'll have to do it next year.' They said, 'That's what we mean.' I said, 'Well, then give me a call next year.' I thought it was one of my buddies just making a prank joke. My God, next year they came right to my house and put some cameras in my trucks … and it's still going strong."
It took some adjusting to get used to a camera crew filming his profession, but Rowland said he doesn't "even realize they're there anymore. … They're there do to their job, so they kind of leave me alone. They're not right in your face all the time unless they're getting some good shots. You just drive along doing what you do."
Driving trucks over the Canadian ice, helping to haul loads to and from the remotest places on the planet, all began when the Polar Bear was just a teenager. "One day they had a load going up to one of the goldmines and they said, 'Do you want to go?' And, of course, that was big money back then. You'd take a couple days off work and go make $500-$600 in one trip. I said, 'Yeah, I'll go.' And that's just how I started, and then when the diamond mines and all goldmines started rolling, it just got busier and busier and I just started buying my own trucks."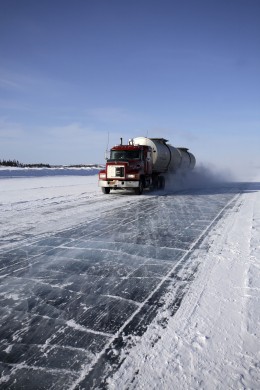 With seven trucks and several drivers under his responsibility, Rowland has become one of the most successful ice road truckers in the business. Interestingly, the profession only takes up about three months of the year. When the weather is warmer, and the ice too thin to travel on, he heads his own construction company.
Driving his own vehicles comes easy, but there's also a level of trust he needs to have with the men who drive his trucks into the hellish weather. "I like to teach the guys what I want them to know and do it my way. … I'd rather have a greenhorn up there and teach him my way of doing it. Then I know it's done the way I want it done, and not some other way."
Rowland's unique style of driving — some would say aggressive — has made him a memorable TV personality. Ask any Ice Road Truckers fan about the 'Polar Bear,' and it doesn't take long for the audience member to form an opinion. The nickname seems to suit his personality. Rowland said he received the moniker in the early 1980s after his colleagues saw 'Polar Bear' on a truck's bug deflector. "And everybody said, 'That fits you perfect.' I was just a hairy, gruffy guy, pretty aggressive up there. I like to fistfight lots. And he just called me the Polar Bear, and it kind of stuck. I've had it for 30 years."
Throughout those 30 years, Rowland has experienced all scenarios play out on the road. When the temperatures dip to 60 below, danger is possible at every turn. "I've froze just about every part of my body," he said. "I've froze the end of my fingers off. They were black, turned rotten. I froze my cheeks, my nose. I froze my knees, my toes. I froze everything. … I've been in a snowstorm where my truck has been completely covered in a drift, and I've been stuck there for three days."
It takes a certain type of person to deal with the peril. "It's more than just going up there to say you've been there," Rowland said. "You got to want to be there. You got to respect the ice. If you don't respect the ice, you're either going to get hurt or somebody else is going to die because of your stupidity."
Even though he's been trucking for decades, the Polar Bear doesn't see an end in sight, especially now that he's a reality TV celebrity. "I'll probably do it until I'm not enjoying it, and I enjoy the s*** out of it right now," he said. "I'll probably do it for years to come yet. I mean it's good money."
By John Soltes / Publisher / John@HollywoodSoapbox.com
Ice Road Truckers airs  Sundays at 9 p.m. on The History Channel. Click here for more information.