Learning the possibilities of the body with yoga instructor Peggy Cappy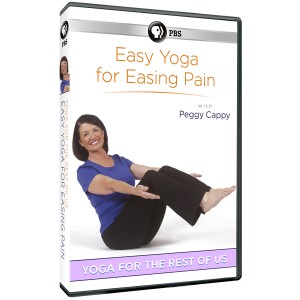 Peggy Cappy, the renowned yoga instructor and host of the Yoga for the Rest of Us series on PBS, has one of those soothing voices that's the definition of inviting. She looks her viewers right in the eyes, offering assurance that the obstacles ahead are manageable and customizable. Follow her lead, but never blindly. Take what you learn and make it your own.
In the one-hour program "Easy Yoga for Easing Pain," which is now available on DVD, Cappy offers an exercise program broken into four parts.
After a helpful and lengthy introduction, she enters into two sessions of stretches while sitting down. A chair with a firm back is necessary for these yoga positions. Trust me, don't use a couch.
Over the course of several minutes, Cappy and one of her students clearly explains and displays each of the increasingly challenging stretches. It all starts with measured breathing, good posture and a focused mind. From there, the physicality enters, and the extent of how you can participate will depend on each viewer's individual strengths and limitations.
For this novice in the yoga world, most of the movements were doable, albeit trying. The third part, arguably the most difficult, tests each viewer's balance. The stretches were now based on standing up and balancing oneself, all while stretching the legs and back. A chair is helpful if the exercises are too difficult.
Newcomers will find Cappy's instruction to be helpful. Experts in yoga will know most off these moves already. The target audience is likely older viewers and those with localized pain, either in the back, legs or shoulders.
For my own purposes, after some relaxation and meditation, it felt good to sweat, to feel more flexible and to know a little more about my body's strengths. Cappy is an able instructor, one who welcomes repeat viewing.
By John Soltes / Publisher / John@HollywoodSoapbox.com
Easy Yoga for Easing Pain with Peggy Cappy

PBS

Running time: 53 minutes

Now available on DVD