YOUR GUIDE: Chicago Comic Con keeps adding more celebrities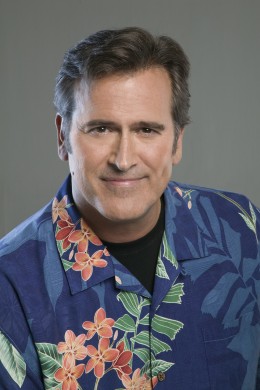 Wizard World's recent Philadelphia Comic Con featured many impressive names, everyone from William Shatner to Patrick Stewart to Chris 'Thor' Hemsworth. Now the company is ready to continue its successful roadshow at the Chicago Comic Con, Aug. 9-12. The names this time around are just as impressive.
Scheduled to appear are Shatner, Scott Bakula, Avery Brooks and Kate Mulgrew (that's four of the Star Trek captains in one place). Stan Lee, creator of so many iconic superheroes, will sign autographs, while WWE superstar John Cena will greet fans on Thursday, Aug. 9 for only four hours.
Tom Felton from the Harry Potter franchise will be in attendance, plus Nina Dobrev (The Vampire Diaries), Bruce Campbell (The Evil Dead), Jon Bernthal (The Walking Dead) and Hayden Panettiere (Heroes). Stopping by from the Jersey Shore will be Michael 'The Situation' Sorrentino, plus Frank Vincent from The Sopranos, that other Jersey show.
The Boondock Saints will all command long lines (Norman Reedus, Sean Patrick Flanery and David Della Rocco are common sights on the convention circuit). Rounding out the celebrity list are Sean Young, Joey Lawrence, Sam Trammell, Colin Ferguson, James Marsters, Amber Benson, James Hong, Jason Priestley, Luke Perry, Dean Cain and Juliet Landau.
The comic book artists on hand are plentiful, everyone from Greg Capullo to J. Scott Campbell.
Single-day tickets are $35 (except Saturday, which runs $45). A four-day pass saves the most money: They cost $75 in advance or $85 at the door. There is also a host of VIP packages for individual celebrities, with most of them including a photo op, special access, four-day admission and an autograph. Here's a partial list: Stan Lee ($200-$499), John Cena and CM Punk ($175-$320), Scott Bakula ($250), Nina Dobrev ($200), William Shatner ($300), The Situation ($200) and James Marsters ($200).
A sampling of individual autograph prices: Avery Brooks ($30), Bruce Campbell ($40), John Cena ($60), Kate Mulgrew ($40), Stan Lee ($55), Scott Bakula ($75) and William Shatner ($75).
Photo opportunities run the gamut. Some of the cheapest include Amber Benson ($35), David Della Rocco ($35) and Jeremy Bulloch ($35). Some of the most expensive include Shatner and Bakula together ($170), all four Star Trek captains ($250) and Lou Ferrigno ($65).
Remember: Celebrities don't always appear all four days. The event will take place at the Donald E. Stephens Convention Center at 5555 N. River Road in Rosemont, IL. Hours are noon to 8 p.m. on Thursday and Friday; 10 a.m. to 7 p.m. on Saturday; and 10 a.m. to 5 p.m. on Sunday. Click here for more information.
By John Soltes / Publisher / John@HollywoodSoapbox.com