Anthony Mora premieres his new play at PL.A.Y Noir festival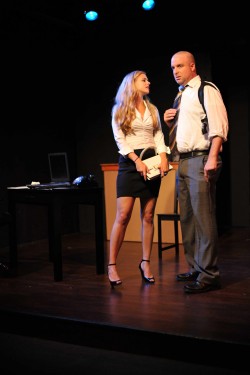 For many, the noir genre comes from a bygone era of fedoras and gumshoe detectives, a time period when color was nonexistent and black-and-white permeated the atmosphere. It may feel like a thing of the past, but noir is far from dead. From the movie theater to the stage, the genre is rebounding and gaining audience attention.
Punk Monkey Productions is currently presenting an evening of five short plays dubbed PL.A.Y Noir at the Actor's Workout Studio in North Hollywood, Calif. All of the works revolve around classic noir themes, including greed, lust and betrayal. The festival promises "hardboiled detectives, double-crossing femme fatales, unscrupulous villains and plenty of intrigue and suspense."
Recently, Hollywood Soapbox exchanged e-mails with playwright Anthony Mora who wrote Silencing Silas, a one-act presented in the program. Mora is the author of the novel Bang! A Love Story, in addition to the plays P.O.P.: The Principles of Perfection, Bang! A Love Story and Modern Love.
How did you get involved with the PL.A.Y Noir festival?
I've known Sarah Kelly and James Elden, from Punk Monkey Productions, for a while. They are also directors and actors. We had been doing separate theatre projects, but had never had a chance to work together. I was going to direct my new play, Hang Fire, but was having some scheduling issues. They told me about PL.A.Y Noir and asked if I had a one act in that genre. I didn't, but I loved the idea of writing a noir genre piece. Since we were having scheduling issues with Hang Fire, I put the project on hold and started writing Silencing Silas. PL.A.Y Noir features five one-acts by different writers and directors. They are all noir-oriented pieces. My wife, Ann Convery, is also a writer. She's a real mystery buff and this production was right up her ally, so I told her to give a noir one-act a try. She did a great job and now her play, Shoofly, starts the program.
Could you tell me a little more about Silencing Silas? Where did the idea for the play come from, and how long have you worked on it?
Silencing Silas came about when James asked if I'd be interested in being a part of PL.A.Y Noir. I wanted to write something in the noir vein, but I didn't want it to be a period piece. I wanted to keep the noir elements, but in a contemporary setting. I also wanted to write a strong female lead, actually more along the lines of a lethal female need. I thought Body Heat and The Last Seduction were good films. I liked that they updated the genre yet stayed true to it, and the female character drove the story. The difference is in those two films, the female character is evil from the get go. In Silencing Silas, the character of Jen is placed in a no-win situation. That triggers something in her where she decides to go all out. The character you think is the dangerous one basically creates a monster. I think that happens to people. They end up in situations that bring out parts of them that you'd never see otherwise. I started working on the piece in January and it's been a refining process since then.
Noir is such a great genre, whether for the theater or cinema. Are you a fan of the genre, and what/who are some of your influences?
I am a true fan of the genre. I'm a fan of Chandler, Hammett and McDonald. The Big Sleep and The Maltese Falcon are favorites. I enjoyed L.A. Confidential and as I said earlier, Body Heat and The Last Seduction. Basically I see Silencing Silas as a play previewing a film. My goal is to (flesh) out the one-act and turn it into a feature. It would be fun. I don't really see myself as a noir writer, but it's a great genre to write in. You can use exposition and narrative in a unique way. Although I love noir, I wouldn't say those are the primary writers that influenced me. Early on, my influences were more along the line of Salinger, McCullers, Steinbeck, Fitzgerald and Kerouac.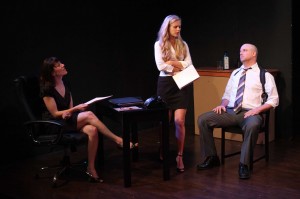 You've had a varied career — what draws you to being a writer?
I think reading is what draws me to writing. At least that's what initially drew me. I'm a fiction addict. I can't fall asleep unless I have a novel to read. It can't be non-fiction. It has to be a novel. I think novels and narrative films can tell the truth much more accurately than non-fiction. Non-fiction is great for the facts, but you find the truth in fiction. Plus, in a sense, I write the way I read. I generally don't use an outline, so I'm learning what happens as I write. That keeps me engaged as a reader and a writer. Of course then comes rewriting, which is a whole different process. Initially, I basically saw myself as a novelist. After I adapted my first novel as a play, I found that I took to the form. I love writing dialogue. It's like skiing, or running downhill. You have to move quickly, but stay aware. I'm now working more with screenplays, but I think the novel will probably always be my first love.
What's on the horizon for you? Will there be a future life for Silencing Silas after PL.A.Y Noir?
There is some interest in turning my novel Bang! A Love Story into a film. I initially adapted it for the theatre and we played it in New York and Los Angeles. Linda Cardellini played the female lead. My main focus now is on Hang Fire. I suppose it would be described as a dark piece with comedic elements. In the work, members of a sex therapy group kick out the therapist but continue meeting and the group rapidly transforms into a revenge club. They are on a vigilante mission, dead set on setting wrongs right by their rules. I'm still considering possibly directing the play version. I recently finished the screenplay adaptation and am looking at getting it made as a film. Hang Fire I truly see as a film.
As to Silencing Silas, I'm considering expanding it from a one-act to a full play. I've been approached by a production company, so who knows. It would make a fun gloves-off noir feature. We'd see just how lethal Jen becomes. I'd really push the envelope on this one.
PL.A.Y Noir runs through July 1 at the Actor's Workout Studio in North Hollywood. Performances are Fridays and Saturdays at 8 p.m. and Sundays at 7 p.m. Click here for more information.