YOUR GUIDE: JawsFest to take a bite out of Martha's Vineyard, Aug. 9-12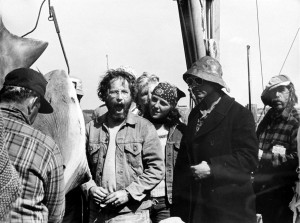 For fans of Jaws, Steven Spielberg's seminal blockbuster film from 1975, these upcoming summer months should be chockfull of memories and tributes to arguably the greatest monster movie of all time. Besides the hotly anticipated Blu-ray release of the shark flick, Martha's Vineyard off the coast of Massachusetts will host JawsFest: The Tribute, a four-day event that celebrates all things Quint, Brody and Hooper (if you don't know these names, it's time to get off the boat).
Tickets are currently on sale for the mega-convention, which will take place Aug. 9-12 in several venues on the island, which served as the actual filming location for the influential movie.
"Living Jaws" will feature a series of engaging discussions with several celebrities associated with the original movie. Included among the VIPs attending will be the widows of Peter Benchley (original author), Roy Scheider (Brody) and Robert Shaw (Quint). Carl Gottlieb, who co-wrote the screenplay, will also be on hand, along with several actors and crew members from the production.
The event organizers also plan on displaying several rare artifacts from the movie in "Behind the Screams," a museum exhibition open to ticket holders. Other events include live reenactments of iconic scenes, family-friendly activities, a trivia hunt and social events at night.
The two hallmarks of the festival will likely be the Saturday evening outdoor screening of Jaws at Ocean Park in Oak Bluffs and a shark awareness campaign known as Sharks, Arts & Conservation.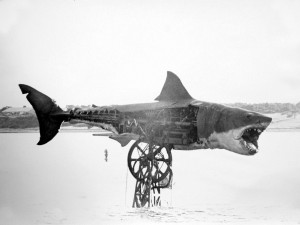 To gain access to all of the events, bracelets cost $295 for adults and $150 for children (7-12 years old). Those who want to make an even deeper dive can purchase the "upgraded" all-access bracelets, which cost $525 and include a trivia hunt kit and a copy of Jaws: Memories from Martha's Vineyard (read our story on the book here). Consider the $525 option, if for no other reason than the book is one of the best coffeetable tomes in years.
Attendees can also purchase general access bracelets, which include admission to the opening ceremony, "Behind the Screams," the conservation campaign, family-friendly activities and reserved seating at the Jaws screening. These cost $75 for adults and $50 for children. Individual tickets for the "Living Jaws" discussions will be available on a per-event basis.
If you're interested in attending, tickets and more information can be found here. Martha's Vineyard, accessed by ferry from the mainland, is extremely busy during the month of August. It's best to book accommodations early.
JawsFest: The Tribute promises to be a fun-filled weekend with plenty of shark fanatics in attendance. Let's hope they have a big enough boat.
By John Soltes / Publisher / John@HollywoodSoapbox.com
Click here for more information.