Why 'River Monsters' still rules reality television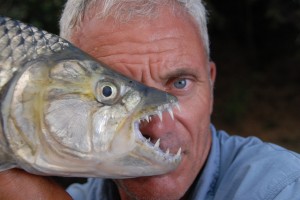 Jeremy Wade, the host of Animal Planet's successful River Monsters series, is a bonafide adventure seeker. He may look and sound like a seasoned TV host, but his appeal has less to do with his mastery of television and more to do with his mastery of freshwater. There are a lot of adventure reality shows on television, highlighting extreme occupations and paranormal investigators. Many are interesting, but few are through-and-through authentic. That's why River Monsters is a cut above the rest. Almost every episode of its fourth season, which recently wrapped on Animal Planet, features a bare-knuckles struggle to reel in impossibly large fish. The drama is inherent in the situation, and Wade knows how to be calm, cool and collective throughout his 'Old Man and the Sea' adventures.
Consider us hooked.
In the finale episode, Wade wades into the so-called 'lair of giants' in the middle of Guyana's rainforest. Miles from any civilization, he boards a canoe with two brothers who know the Essequibo river well. Along the way, he faces many challenges. From the destructive nature of gold miners on the river to dangerous rapids further downstream, just about every obstacle in the book is thrown at Wade and his crew. His ultimate goal is to find an undiscovered lake that is supposed to be teeming with giants.
The two-hour episode follows the same path as other River Monsters installments. Every commercial break is preceded by a dramatic scene where Wade pulls in the big one. We are forced to wait for the McDonald's advertisements to pass before we find out exactly what's on the line. Before the final minutes, when the largest fish is brought in, Wade catches quite a few monsters. From an enormous catfish to pesky Cayman alligators, he has a lot of fun on the river. But nothing in the early stages proves to be historic or overly memorable.
It takes some further trekking, including a near broken leg on the rocks along the river, for Wade to find, well, you can call it whatever you like … El Dorado, heaven, Atlantis, Middle Earth. The lake at the end of the river is calmer than the choppy waters that came before, and it promises gargantuan fish just beneath the surface.
It should come as no surprise that Wade is able to snag a big one. But what makes his ultimate fish vastly more interesting than the huge ones that came further upriver is its uniqueness. The jury is still out, but it would appear that Wade found an as-yet unidentified species. He let the big one go, but not before yanking off a scale for further study.
River Monsters has now winded down its fourth season, but the memories of the "one's that didn't get away" still linger. Here's a show that sidestepped the usual TV rubric and decided to go with an authentic host who genuinely knows his profession. Forget the background music. Forget the climatic cutaways to commercials. Forget the teasers and big revelations. River Monsters begins and ends with the expertise and appeal of this man among monsters.
We salute you, Jeremy Wade!
By John Soltes / Publisher / John@HollywoodSoapbox.com
Click here for more information.