'Hellbound: Hellraiser II' gets lost in its own Pandora's Box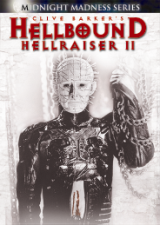 I tried watching Hellraiser as a young teenager, but I couldn't get past all the blood and guts. It all seemed so weird and dreadful. As an adult, I've reconnected with Clive Barker's film and still have the same feelings — but now in 2012, I can appreciate the horror effort. It's scary and effective, even though it's a far cry from the 1980s fright classics.
Its inevitable sequel, titled Hellbound: Hellraiser II, continues the story only a few hours after the original one ended. Kirsty Cotton (Ashley Laurence) is now stuck in a mental health facility with many people claiming she cried wolf about her father's disappearance and her stepmother's demonic killing spree. Her doctor — played by Kenneth Cranham — nods his head and writes on his clipboard, but he doesn't seem convinced.
It all starts off like a typical sequel, rehashing the events of the original and setting us up for another trip down the rabbit hole. But Hellbound decides to forego the formula of most horror sequels and make its own rules. What occurs within these 99 minutes are strange, scary and silly. There's no reasoning behind any action or display of special effects. The Cenobites (the sadistic, leather-clad villains from another world) are almost nonexistent for the majority of the film. Clare Higgins turns up again as Julia, Kirsty's stepmother.
I suppose all of the elements are present for a decent horror flick, but nothing connects and nothing seems worth our bother. The movie, directed by Tony Randel and written by Peter Atkins, is an annoying head trip into Barker's fantasy world. There are dazzling images and grotesque displays of violence, but they're present for no real reason. We're following the travails of a Pandora's Box, but few details emerge.
One of the worst attributes of any fantasy/horror movie is when the film makes up legends and stories to suit its own purpose. For the middle chunk of Hellbound: Hellraiser II, we take left turn after left turn, all in the service of this dreamlike landscape that is never described or understood. Mystery is always a good thing with these types of movies, but too many allusions can prove frustrating.
There's no denying that the special effects and makeup work are impressive. But when they serve a story that feels extremely detached from its predecessor and the characters who have stuck around, then the latex and fake blood are all for nothing.
Viewers should be able to pick up on some influences, everything from Frankenstein to Snow White. But ultimately this horror franchise is undone by its noncommittal plot and refusal to follow a coherent path.
By John Soltes / Publisher / John@HollywoodSoapbox.com
Hellbound: Hellraiser II

Directed by Tony Randel

Written by Peter Atkins; based on a story by Clive Barker

Starring Ashley Laurence, Clare Higgins, Doug Bradley and Kenneth Cranham

Running time: 99 minutes

Recently released on Blu-ray from Image Entertainment

Rating: