'POIROT' REVIEW: The Adventure of Johnnie Waverly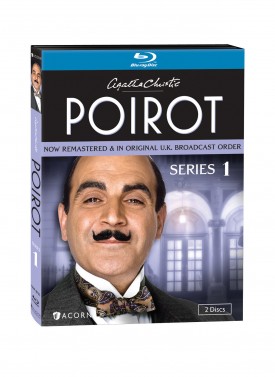 "The Adventure of Johnnie Waverly" is a clever addition to the repertoire of Agatha Christie's Poirot, starring the indomitable David Suchet. Fans of the Coen brothers' Fargo will likely see similarities between that film and this 1989 TV episode.
First off, Hercule Poirot (Suchet) takes a new case that involves a possible kidnapping and some ransom money. The Belgian investigator with the funny mustache travels to the English countryside to see what may be awry. Interestingly, no crime has been committed, at least no violent crime. The little boy — Johnnie Waverly — is still safe and sound when Poirot arrives on the scene. The cause for concern for Johnnie's parents is a series of ransom letters that foreshadow the boy's kidnapping.
Poirot examines the evidence, always asking questions that don't seem to connect to the case. Captain Hastings (Hugh Fraser) and Chief Inspector Japp (Philip Jackson) arrive on the scene, but they only seem to get in Poirot's way.
Johnnie's family hopes that the private eye will be able to discover the mystery before the boy is taken and before they need to pony up northward of 50,000 pounds.
What makes "The Adventure of Johnnie Waverly" an original Poirot episode is not only that the crime at hand has yet to be committed. It also deals with the beautiful British countryside and the large Waverly estate. The plot may be similar to Fargo, but the setting is something out of Downton Abbey. There is a cadre of maids and butlers busying themselves around the estate, and all of them seem like possible suspects. It's up to Poirot to sift through the pointed fingers and mounting evidence.
As this third episode in the successful TV series proves, Poirot knows how to stick to the tried-and-true rubric of a good mystery. We know the quirky sentiments of the central characters. We learn the specifics of the case within a few minutes. We are led down many paths with several red herrings thrown in. And then, when the gavel is ready to drop, our mind is blown by the detective's ability to find the true criminal.
Some may grow tired of this structure. After all, it has been used in Poirot, Scooby Doo, Criminal Minds and so many other shows over the years. But sometimes it's great to have comfort in a TV series, to know what will happen and still be pleasantly surprised by the results each and every time.
By John Soltes / Publisher / John@HollywoodSoapbox.com
Agatha Christie's Poirot: Series 1

Starring David Suchet, Hugh Fraser and Philip Jackson

Running time: 50 minutes per episode
Acorn Media's 2-disc Blu-ray set includes 10 mysteries, all remastered and restored to their original UK broadcast order. Click here for more information. The collection is also available in a 3-disc DVD set.

Rating: