Learning the lessons of Fukushima Daiichi in 'Nuclear Aftershocks'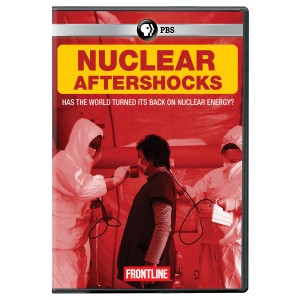 Miles O'Brien and Jon Palfreman have done TV viewers a great service in exploring the controversial aftermath of the devastating nuclear crisis in Japan. Looking closely at the fateful events surrounding the March 2011 incident at the country's Fukushima Daiichi nuclear complex, O'Brien and his Frontline crew from PBS not only dissect what happened, but also look at the next chapter in our reliance on nuclear power.
Are we safe?
Nuclear Aftershocks is an important 60-minute program that considers many of the difficult questions facing the nuclear industry. In light of Japan's troubles, should similar facilities be upgraded or shut down completely? Of particular interest is the Indian Point nuclear facility that sits less than 50 miles from New York City. It churns its energy on the Hudson River within striking distance of a metropolitan populace that's packed with cars and people (I count myself within that close range). If a disaster were to occur, a thorough evacuation seems almost impossible.
By interviewing experts from MIT, government officials and concerned activists, O'Brien is able to get at the heart of the matter. Like so many other great Frontline documentaries, Nuclear Aftershocks is able to take an impossibly complex problem (at least for the layman) and present the facts in a digestible, non-patronizing manner. By the program's end, viewers will leave with a definite education in nuclear power plants and the complicated problems that can arise from loose regulations.
There are many lessons to be learned from the Fukushima Daiichi disaster. These facilities need to have fail-proof mechanisms in the event of a natural disaster. Whether it's a damaging flood, violent hurricane or treacherous earthquake, these facilities need to shut off and run on proper backup power to cool everything down. Otherwise, as Japan teaches us, the aftershocks can change the landscape forever.
There's one woman interviewed during the program who puts a personal side on this global issue. Her family lives near Fukushima, and she needs to watch her son's Little League baseball games more than 60 miles away from her hometown. Her life has been changed by the events of March 2011, and her response to the devastation is perhaps the most thoughtful comment in the TV special: Humans shouldn't be involved in things they cannot control.
Nuclear Aftershocks is not some apocalyptic documentary that tries to act like a modern-day Nostradamus. All O'Brien and Palfreman do is put the tea leaves together. There are some serious questions that need to be addressed, and Japan has now put these issues in the forefront. How can we make nuclear disaster an impossibility? What lessons are there to learn from Chernoybl and Fukushima Daiichi? If we are to move away from nuclear power, then how will the renewable industry step up and provide 24/7 energy for our 21st century lives? And, much like the climate control debate, how will we preserve the Earth for generations to come?
By John Soltes / Publisher / John@HollywoodSoapbox.com
Nuclear Aftershocks

A Frontline documentary

Produced and directed by Jon Palfreman

Reported by Miles O'Brien

Written by O'Brien and Palfreman

Running time: 60 minutes

Now available on DVD from PBS

Rating: