'Mandrill' will excite any action fan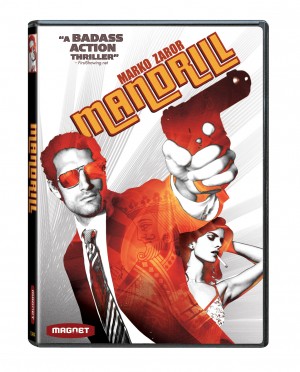 Call me a sucker for James Bond movies. Call me a hopeless romantic for cinematic espionage featuring dark sunglasses, catchy one-liners, international plots and expertly staged action. Call me whatever you like, Mandrill is a pure adrenaline ride from writer-director Ernesto Diaz Espinoza.
Featuring a towering performance from Marko Zaror, the movie is a throwback to the 1970s action films that featur shiny cars, beautiful vixens, snazzy music and martinis (shaken, not stirred, of course). As Antonio (code name: Mandrill), Zaror couples martial arts with a daring cool, and the results are inspired.
The plot is largely secondary to the characterization. Mandrill is assigned a variety of cases where unsuspecting victims are taken dead or alive. There's usually a lot of money involved, and Mandrill executes his missions with a flawlessness that never fails to astound.
His latest case is intended to be his last, but as these things go, walking away from the job can prove difficult. His mission, if he chooses to accept it, is to find and capture a high-profile casino owner in Lima, Peru. The catch is that this criminal bigwig is the same person who killed Mandrill's parents, right in front of his eyes. This final task elevates beyond the usual and enters that coveted echelon known as cinematic revenge.
Throughout a fast-paced 90 minutes, Mandrill punches and kicks his way to the final man. But like any good action flick, there's a lovely lady standing in the way. This time it's Dominique (Celine Reymond), the casino owner's daughter who has a few secrets up her sleeve.
Espinoza knows how to achieve a perfect style and atmosphere. At times during the movie, the action stops and the entire screen turns a particular color, all the while a cheesy instrumental tune blares in the background. American moviegoers will undoubtedly find connections to Quentin Tarantino's films. Mandrill is never as slick or poignant as Kill Bill, but it finds a comfortable medium, offering non-stop action, exciting thrills and an engaging central character. Espinoza understands this genre, so much so that he's included a movie-within-a-movie called John Colt, featuring a character that's quite similar to Mandrill.
Zaror and Reymond have some great chemistry on screen, and they know how to work both the intimate and action scenes with the necessary skill of two professionals. They both seem to ooze coolness, and that's one of the definite highlights of the film. Mandrill features performances that buy into the overall theme: We should take everything seriously, but never too seriously. We're supposed to be simultaneously impressed with the martial arts sequences and also laugh at the ridiculousness of all the action.
The fight choreography is excellent and the music composed by Rocco fits the film and its ambitions. Taken together, Espinoza has created a 90-minute gift to lovers of cinematic action.
By John Soltes / Publisher / John@HollywoodSoapbox.com
Mandrill

Written and directed by Ernesto Diaz Espinoza

Starring Marko Zaror and Celine Reymond

Running time: 88 minutes

Rated R for violence and brief sexuality.

Rating: