'POIROT' REVIEW: Murder in the Mews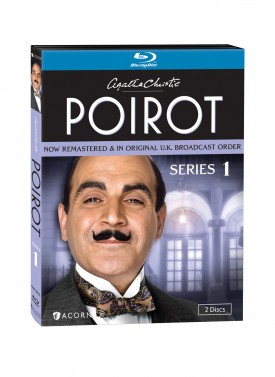 Hercule Poirot (David Suchet) snoops around 1930s London again in Agatha Christie's Poirot's second episode, "Murder in the Mews." Much like its predecessor, the hour-long TV program jumps right into the case with very few introductions or subtext. We take Poirot at face value: Here's a Belgian detective with a very small mustache, a stubbornness about his clean, crisp clothes and an uncanny ability to sniff out a mole.
In "Murder in the Mews," Poirot teams up with Captain Hastings (Hugh Fraser) and the great Chief Inspector Japp (Philip Jackson) to look into the death of a young woman that may be a suicide or may be a murder. There's a cast of characters surrounding the victim, all of them with less-than-airtight alibis and reasons for wanting to get rid of the woman. Whether it's her best friend or her fiancé, everyone seems to have blood on their hands.
In this episode, Japp actually does most of the work. He's the one knocking on doors, conducting interviews and getting those "Who me?" looks from possible suspects. Poirot stands in the background (sometimes even offscreen), soaking in all the details and constantly thinking over the possibilities.
These TV episodes, all based on Agatha Christie's original characters, have a certain rhythm that make them highly enjoyable. There's a nice, pleasant introduction followed by the crime at hand. The investigation begins with a bunch of questioning and assessing of the facts, and then the script begins to pinpoint a few suspects. Like all good murder mysteries, we are led down one path, thinking this person or that person definitely committed the crime, and then by the end of the episode, we're left with a completely different conclusion.
One could say this rubric grows old fast, but not with Suchet's acting. The stories are as much about the murder cases as they are about this interesting, oddball of a character. While we're finding out the details of the crime, we also learn that Poirot is upset with his dry cleaners because of an overly starched collar. He's a prickly man, one who needs everything to be just right, otherwise it throws him off balance.
Even the final line of the episode is a Poirot classic. Rather than showing ebullience over a job well done and justice served, the Belgian detective simply asks his friends whether they would like some lunch. It's already time for the next mystery.
By John Soltes / Publisher / John@HollywoodSoapbox.com
Agatha Christie's Poirot: Series 1

Starring David Suchet, Hugh Fraser and Philip Jackson

Running time: 50 minutes per episode
Acorn Media's 2-disc Blu-ray set includes 10 mysteries, all remastered and restored to their original UK broadcast order. Click here for more information. The collection is also available in a 3-disc DVD set.

Rating: