CON NEWS: Avery Brooks in Nashville, 'The Walking Dead' in NJ, Thor in PA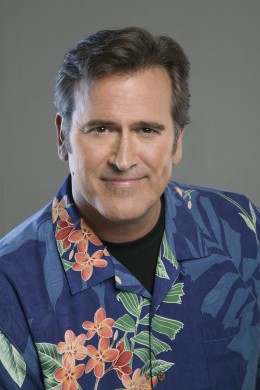 The convention scene is heating up across the United States, with many TV and movie stars heading to cities around the nation. The mega-event of the summer has to be the Philadelphia Comic Con (May 31, June 1-3), which features four Star Trek captains, Chris Hemsworth (Thor) and Bruce Campbell. Expect long lines and possible sell outs.
Wizard World's Philly event is quickly becoming a dominant force on the East Coast. In terms of celebrity cache, it stands only behind New York Comic Con and that little party in San Diego you may have heard about. Think about this: Over the course of one weekend, you can grab autographs from Hemsworth ($100 or $150), Anthony Michael Hall ($25), Avery Brooks ($40), Campbell ($40), Dean Cain ($35), Dean Stockwell ($30), James Hong ($25), James Marsters ($40), Jason Priestley ($25), Jeri Ryan ($55), Joey Lawrence ($30), Kate Mulgrew ($40), Norman Reedus ($30), Paul Wesley ($40), Sam Trammell ($30), Scott Bakula ($75), Stan Lee ($55) and William Shatner ($75).
Yes, the creator of Thor (Lee) costs less than Thor himself. For more information on the Philadelphia Comic Con, click here.
Just across the river from the Philadelphia Comic Con will be the next installment of the Monster-Man Con on Aug. 17-19 at the Crowne Plaza Hotel in Cherry Hill, N.J. The horror event will celebrate the 25th anniversary of Hellraiser with appearances by Clive Barker, Doug Bradley, Claire Higgins and other members of the cast. Jeffrey DeMunn and Madison Lintz will represent The Walking Dead.
At Monster-Mania's September event in Maryland, the VIP guest of honor will be Asia Argento, daughter of Dario. Click here for more information.
Avery Brooks has been added to Creation Entertainment's Official Star Trek Convention in Nashville, Tenn. (June 9-10 at the Gaylord Opryland Hotel). He fills in for Patrick Stewart who had to cancel for a film commitment. If you're attending the weekend event as a Gold or Preferred guest, you'll have Brooks' autograph included in the package. For others, it'll cost $75. Other Trek celebrities in Nashville include Jonathan Frakes, LeVar Burton, George Takei, Nichelle Nichols, Marina Sirtis, Chase Masterson and John de Lancie.
Click here for more information on Creation's event.
By John Soltes / Publisher / John@HollywoodSoapbox.com