'Bad Actress' jokingly looks at our obsession with celebrity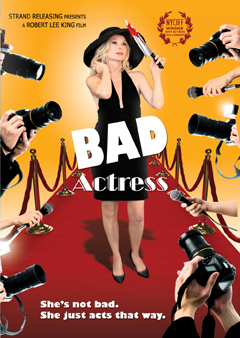 Bad Actress is a strange movie that never fulfills its promise of being a funny, clever look at the world of celebrities in Hollywood. The script is amusing to a point, but the cast members are unable to fully buy into the dark comedic currents of the 85-minute film. Despite an effective performance from the beautiful Beth Broderick as the title character, Bad Actress is a fairly bad movie.
Alyssa Rampart-Pillage (Broderick) is a washed-up actress who hasn't had a steady acting gig in quite some time. She's remembered for a primetime TV role and still has some dedicated fans, but most of the money in the household comes from her husband Bernie (Chris Mulkey) and his successful refrigerator business. Everything is cozy and comfortable in their swanky house, with their three adult children (Whitney Able, Ryan Hansen and Keri Lynn Pratt) never too far away from the family's credit cards.
The disruption comes when Alyssa finds out that Bernie has become a Buddhist and written the family out of his will. To change the course of events, the blonde bombshell employs the help of Bernie's cousin (Vincent Ventresca) to kill the refrigerator kingpin. After the act is done, it's up to Alyssa's "acting skills" to keep her one step ahead of the police.
The movie, written by David Michael Barrett and directed by Robert Lee King, is a comedy in the same vein as a Christopher Guest film. It also reminded me of Neil LaBute's Nurse Betty. But Bad Actress tries too hard to reach the upper-echelon of dark comedy. The jokes are never that funny and the characters are all annoying people with very few redeeming qualities. Alyssa could be a crazed Hollywood vixen, but Broderick plays her with an elegant brainlessness. It's a funny performance (probably the film's highlight), but it doesn't mix well with the ridiculous plot points that turn on a dime like a cheap mystery novel. Everything is tongue-in-cheek, but so silly and unfunny that very few zingers stick.
Watching Bad Actress is an odd experience. It's always entertaining enough for the audience to follow through to its predictable conclusion, but after spending 85 minutes with the Pillage family, one realizes how much time they have wasted in their company. There's just not much here: No smart commentary on celebrities and Hollywood; no funny lines of dialogue; no interesting characters; no point whatsoever.
By John Soltes / Publisher / John@HollywoodSoapbox.com
Bad Actress

Directed by Robert Lee King

Written by David Michael Barrett

Starring Beth Broderick, Chris Mulkey, Whitney Able, Vincent Ventresca and Ryan Hansen

Running time: 85 minutes

Rating: