2012 Tony Award Predictions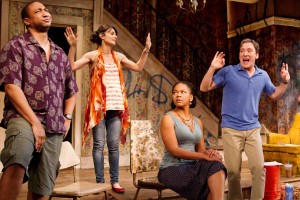 With the 2012 Tony Awards just a couple weeks away, it's time to separate the winners from the losers. Most critics believe it was a weak year for musicals, but a stellar year for new plays. Standouts among the dozens of offerings were Clybourne Park, Arthur Miller's Death of a Salesman, Follies, The Gershwins' Porgy and Bess, Once and Newsies.
The best productions occurred in the competitive Best Musical Revival category, where Follies and The Gershwins' Porgy and Bess face off. Several of the acting categories are also quite competitive, with many celebrated performances. From Nina Arianda in Venus in Fur to Linda Lavin in The Lyons, it's a fairly difficult year to predict the winners.
But here's our best guesses…
BEST  PLAY
Will & Should Win: Clybourne Park
Potential Spoiler: Other Desert Cities
BEST MUSICAL
Will Win: Once
Should Win: Newsies
Potential Spoiler: Newsies
BEST BOOK OF A MUSICAL
Will & Should Win: Enda Walsh, Once
Potential Spoiler: Harvey Fierstein, Newsies
BEST ORIGINAL SCORE
Will & Should Win: Alan Menken and Jack Feldman, Newsies
Potential Spoiler: Grant Olding, One Man, Two Guvnors
BEST REVIVAL OF A PLAY
Will & Should Win: Arthur Miller's Death of a Salesman
Potential Spoiler: Nothing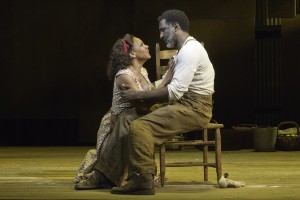 BEST REVIVAL OF A MUSICAL
Will & Should Win: The Gershwins' Porgy and Bess
Potential Spoiler: Follies
BEST LEAD ACTOR, PLAY
Will & Should Win: James Corden, One Man, Two Guvnors
Potential Spoiler: Philip Seymour Hoffman, Arthur Miller's Death of a Salesman
BEST LEAD ACTRESS, PLAY
Will Win: Nina Arianda, Venus in Fur
Should Win: Cynthia Nixon, Wit
Potential Spoiler: Linda Lavin, The Lyons
BEST LEAD ACTOR, MUSICAL
Will Win: Jeremy Jordan, Newsies
Should Win: Norm Lewis, The Gershwins' Porgy and Bess
Potential Spoiler: Steve Kazee, Once
BEST LEAD ACTRESS, MUSICAL
Will & Should Win: Audra McDonald, The Gershwins' Porgy and Bess
Potential Spoiler: Jan Maxwell, Follies
BEST FEATURED ACTOR, PLAY
Will Win: Andrew Garfield, Arthur Miller's Death of a Salesman
Should Win: Jeremy Shamos, Clybourne Park
Potential Spoiler: Christian Borle, Peter and the Starcatcher
BEST FEATURED ACTRESS, PLAY
Will Win: Judith Light, Other Desert Cities
Should Win: Linda Emond, Arthur Miller's Death of a Salesman
Potential Spoiler: Linda Emond, Arthur Miller's Death of a Salesman
BEST FEATURED ACTOR, MUSICAL
Will & Should Win: Phillip Boykin, The Gershwins' Porgy and Bess
Potential Spoiler: Josh Young, Jesus Christ Superstar
BEST FEATURED ACTRESS, MUSICAL
Will Win: Judy Kaye, Nice Work If You Can Get It
Should Win: Da'Vine Joy Randolph, Ghost the Musical
Potential Spoiler: Da'Vine Joy Randolph, Ghost the Musical
BEST DIRECTOR, PLAY
Will & Should Win: Mike Nichols, Arthur Miller's Death of a Salesman
Potential Spoiler: No one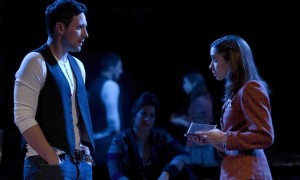 BEST DIRECTOR, MUSICAL
Will Win: John Tiffany, Once
Should Win: Jeff Calhoun, Newsies
Potential Spoiler: Jeff Calhoun, Newsies
BEST CHOREOGRAPHY
Will & Should Win: Christopher Gattelli, Newsies
Potential Spoiler: No one
BEST ORCHESTRATIONS
Will Win: Martin Lowe, Once
Should Win: Danny Troob, Newsies
Potential Spoiler: Danny Troob, Newsies
BEST SCENIC DESIGN, PLAY
Will & Should Win: Daniel Ostling, Clybourne Park
Potential Spoiler: Donyale Werle, Peter and the Starcatcher
BEST SCENIC DESIGN, MUSICAL
Will & Should Win: Rob Howell and Jon Driscoll, Ghost the Musical
Potential Spoiler: George Tsypin, Spider-Man Turn Off the Dark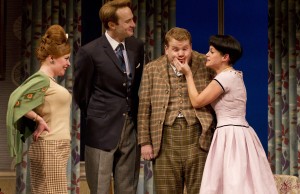 BEST COSTUME DESIGN, PLAY
Will Win: Mark Thompson, One Man, Two Guvnors
Should Win: Paul Tazewell, A Streetcar Named Desire
Potential Spoiler: Paloma Young, Peter and the Starcatcher
BEST COSTUME DESIGN, MUSICAL
Will & Should Win: Eiko Ishioka, Spider-Man Turn Off the Dark
Potential Spoiler: Gregg Barnes, Follies
BEST LIGHTING DESIGN, PLAY
Will Win: Brian MacDevitt, Arthur Miller's Death of a Salesman
Should Win: Jeff Croiter, Peter and the Starcatcher
Potential Spoiler: Jeff Croiter, Peter and the Starcatcher
BEST LIGHTING DESIGN, MUSICAL
Will & Should Win: Hugh Vanstone, Ghost the Musical
Potential Spoiler: Natasha Katz, Once
BEST SOUND DESIGN, PLAY
Will & Should Win: Darron L. West, Peter and the Starcatcher
Potential Spoiler: Scott Lehrer, Arthur Miller's Death of a Salesman
BEST SOUND DESIGN, MUSICAL
Will & Should Win: Clive Goodwin, Once
Potential Spoiler: Kai Harada, Follies
By Hollywood Soapbox