'Leap of Faith' is simultaneously enjoyable and forgettable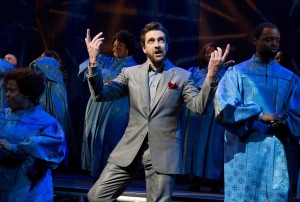 Leap of Faith, Broadway's new musical featuring songs by Alan Menken, has had a somewhat strange trip to the Great White Way. After a Los Angeles premiere a couple of years ago, it made its way to Broadway's St. James Theatre with its star, Raúl Esparza, intact, but audiences apparently haven't responded in kind. The show, which nabbed a Best Musical nomination at this year's Tony Awards, will close Sunday, May 13 after little more than a month on the Rialto.
Is the show that bad? Was business so poor that it couldn't last until the Tony telecast in early June?
The two-act musical currently playing at the St. James is a lot better than most naysayers will want to believe. It's far from perfect and largely overshadowed by Menken's other gem a few blocks away (Newsies), but Leap of Faith provides enjoyable entertainment, an ebullient variety of gospel and country songs and some nice acting from Esparza. There has been far better and far worse on Broadway.
Based on the 1992 Steve Martin comedy, the musical follows the phony shenanigans of Jonas Nightingale (Esparza), a Christian tent revivalist who travels from town to town in search of some souls to save. With every shout of "Amen!" from his chorus of "Angels," the supposed man of God extends his hand into the crowd, hoping to pull back a fistful of cash. He may speak with a silver tongue, but this man thinks about green all the time.
Helping Jonas is his loving (but equally phony) sister, Sam (Kendra Kassebaum), and Ida Mae Sturdevant (Kecia Lewis-Evans), the leader of the Angels choir. They pitch their tent in the small town of Sweetwater, Kan., and almost instantly run into trouble with the local sheriff (Marla McGown, played by Jessica Phillips). Jonas tries to keep his revival going for three days of profitability, while Marla tries to shut everything down before the locals get even further duped.
There's a bunch of sub-plots involving Marla's son, who hopes to break out of his wheelchair one day, and Ida Mae's son, who's a bona-fide preacher with a good heart. But the central plot is the only one worth focusing on: Jonas, as played by Esparza, is charismatic and perpetually watchable. When he walks out into the audience on an elevated stage, we are taken not so much by his message of salvation, but more by the actor's showmanship. This is the definition of a star vehicle, and Esparza impresses with the mediocre material.
The songs gain the most traction when the entire company lends its collective voice. "Rise Up!" starts things off on an energetic clip, while "Dancin' in the Devil Shoes" provides a great deal of entertainment. The ultimate number — titled "Leap of Faith" — is the best of Menken's work, featuring smart, effective lyrics by Glenn Slater. The connective tissue between each song is less than godly. Janus Cercone's and Warren Leight's book can never elevate the proceedings beyond the cliche, and this holds the show back considerably. These characters, especially Marla, feel underwritten and like mere afterthoughts.
Christopher Ashley's direction is welcoming and utilizes the entire St. James Theatre. Many efforts are made to join the audience in the action, whether it's having chorus members descend into the crowd to ask for our financial support or having Jonas sing to us, the "atheist" audience of New York City. The actual tent on stage, designed by Robin Wagner, serves the musical well.
The cast is talented and Menken's songs are catchy, but the entire two-hour-30-minute musical is instantly forgettable. It provides enough entertainment for the time it's up on stage, asking for our approval and money. But once those lights go out (like they will on May 13 for the last time), Leap of Faith becomes a distant memory.
By John Soltes / Publisher / John@HollywoodSoapbox.com
Leap of Faith

Music by Alan Menken

Lyrics by Glenn Slater

Book by Janus Cercone and Warren Leight

Starring Raúl Esparza, Jessica Phillips, Kendra Kassebaum, Kecia Lewis-Evans, Leslie Odom, Jr., Krystal Joy Brown and Talon Ackerman

Running time: 150 minutes

Currently playing at the St. James Theatre at 246 W. 44th St. in New York City. Click here for more information.

Rating: