REVIEW: 'Shades' finds out what happens when the heart stops ticking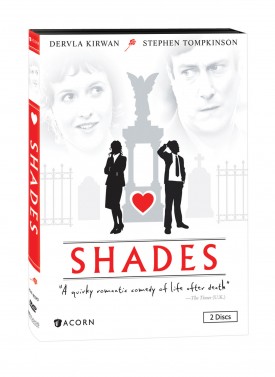 Shades, the British TV miniseries from 2000 that's now available on DVD from Acorn Media, is that rare breed of television entertainment. Many shows have excellent premises, but can't pull off the execution. On their marathon race to catharsis, they trip up and fall flat on their face. Shades, starring the talented Dervla Kirwan and Stephen Tompkinson, actually does the reverse. It has a manufactured, silly premise, but its execution excels well beyond expectations. The resulting six episodes are haphazardly comedic and dramatic, and it never finds a nice balance between the two extremes.
Maeve (Kirwan) is an independent Irish woman living the single life in London. She's a meteorologist by day and shacking up with her married landlord (Peter O'Brien) by night. She's estranged from her family, but has a good group of friends and gives the impression of happiness. All of this comes to a crashing end when she steps out into the street and gets run over by a car. When she brushes herself off and assesses the damage, Maeve realizes she didn't make it through the accident. She may look alive, but she's a goner.
Mark (Tompkinson) is a loving father to his daughter and can't wait for the birth of his first son. He dotes over his wife (Sally Hurst), but is struggling to pay the bills and has fallen behind on his life insurance installments. His life also comes to an abrupt end after a routine surgery goes horribly wrong and his heart gives out. Coincidentally, as Mark loses his life, his wife goes into labor and gives birth to his second child.
So, the two main characters of Shades are dead, but they are far from their eternal resting place. Maeve and Mark team up to figure out what exactly happened and how their respective families are dealing with the grief. At first, they don't really like each other's company. Maeve is talkative and insulting, while Mark is close-minded and prickly. When they visit their families like ghosts out of a Charles Dickens novel, they become angry and sad with the looming reality. Mark's wife is in disarray. She's running out of money to care for their two children, and his unsigned life insurance policy won't help matters. Maeve is dismayed to find out that her landlord had more than one mistress in his life.
There are several systemic problems with Shades. First off, the series makes up rules about life after death with no explanation for its choices. How Maeve and Mark are able to continue interacting with the people in their life, and yet remain hidden, seems like a contrivance to serve the plot. Apparently, anyone who knew Maeve in life can't see her in death, but they can see Mark. But after Mark leaves a conversation, anyone who talked to him will forget seeing him in the first place. The same works the other way around. So, Mark sends Maeve on missions to console and comfort his wife, while Maeve sends Mark on projects to settle her familial affairs. If you think for one minute about the overall plot, you'll find more holes than a piece of Swiss cheese.
Another problem — and this one is unforgivable — is the general annoying nature of both Maeve and Mark as characters. They don't like each other and almost always fight about this and that. After the first episode, their banter grows tiresome. Who knew that life after death brought such banality? They literally have nothing to talk about.
After the first two episodes, the show's creators decide to serialize the action by throwing seemingly ridiculous plot points into the mix. For example, Maeve and Mark find an abandoned baby near a hospital. They decide to play Sherlock Holmes and Watson and find out how this could have occurred. This may distract us from the dullness of Maeve and Mark's former lives, but it doesn't supply the show with some much-needed energy.
All things considered, Shades is not a total bore. This is where that "bad premise, excellent execution" argument comes into play. Kirwan and Tompkinson are quite enjoyable to watch, and their acting is much better than the stilted material they are given. If it weren't for their two effective performances, Shades would be a complete misfire. Thankfully, the two leads are able to salvage the wreck and bring some respectability to a show that feels like the TV version of Ghost.
By John Soltes / Publisher / John@HollywoodSoapbox.com
Shades

6 episodes

Starring Dervla Kirwan, Stephen Tompkinson, Peter O'Brien, David Bradley and Callum Blue

Running time: 296 minutes

Not Rated

Rating: