Kelli O'Hara, Matthew Broderick do some 'Nice Work' on Broadway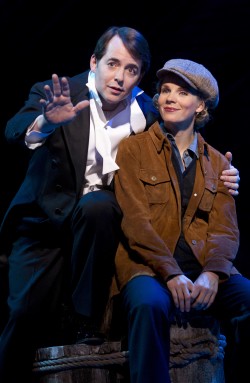 NEW YORK — Nice Work If You Can Get It, the new musical featuring classic songs from George and Ira Gershwin, is a zany madcap comedy that may not deliver gut-busting laughs, but does know how to cherish the bygone era of splashy musical comedies with gents, dames and tons of chorus girls. The Tony-nominated show is the perfect balance of sincerity and absurdity, never taking itself too seriously, but also fashioning a quietly touching love story. In a Broadway season hurting for some musical originality, Nice Work stands out as one of the best.
Matthew Broderick plays Jimmy Winter, a silver-spoon-fed playboy who hasn't worked a day in his life. He enjoys the company of pretty chorus girls and doesn't quite know how to hold his liquor. Broderick, whose last Broadway musical was The Producers, captures the role perfectly. He brings his unique brand of humor to the line deliveries and is able to sing many of these classic tunes with effortless zeal. His "Sweet and Lowdown" starts things off on the right clip, while "S Wonderful" continues the stellar performance.
Kelli O'Hara plays Billie Bendix, a rough-and-tumble bootlegger who substitutes all that girlie stuff for a life of making some dough during Prohibition. Her partner in crime is Cookie McGee (Michael McGrath, a well-deserved Tony nominee for this performance). Together with Duke Mahoney (Chris Sullivan), these three criminals provide the show with much of its humor. Their mission is to hide a caseload of alcohol away from the suspecting eyes of the police. After Billie bumps into Jimmy during one of his nightly drinking escapades, they decide to store the booze in the basement of the playboy's Long Island mansion.
O'Hara, who is one of American theater's greatest leading ladies, has the best voice on stage. She never oversells these simple songs, but lets them course through her body and take her on a journey. "But Not for Me" is wondrous, and her duet with Broderick on the title song is catchy and fun. She's a consummate performer with a knack for reinventing herself, and this role is certainly a step in the opposite direction from her other career highlights. O'Hara doesn't exactly scream tomboy, but she plays Billie with a believable "average Jane" quality, almost like she could be a Newsie with those other boys just up the block.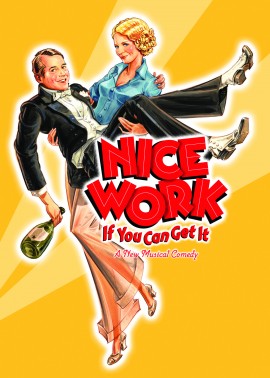 Although Broderick and O'Hara are in fine form, Judy Kaye almost steals the show. As Duchess Estonia Dulworth, a strident prohibitionist, she couples sternness with a wonderful sense of ridiculousness, and the results are inspired. Joe DiPietro, who wrote the book, smartly puts a drink in Dulworth's hand in Act II, and there's nothing funnier than watching a prohibitionist get drunk.
Kathleen Marshall, who directed and choreographed the musical, keeps everything bubbly, like a recently poured glass of champagne. The dances are never show-stopping (like Anything Goes), but they serve their purpose. A few minor quibbles: The show runs a little too long, and there seems to be ample space in Act II for some cutting. Despite all the great tunes from the Gershwins, the show doesn't have too many big, splashy company numbers.
But of the songs that are included, the actors are able to find some great comedic moments. O'Hara's rendition of "Treat Me Rough" in Jimmy's ritzy bedroom is hilarious, and "Looking for a Boy" from Kaye and McGrath is quite funny as well. They've even brought humor to "Someone to Watch Over Me," perhaps the show's best-known song.
Nice Work If You Can Get It doesn't offer earth-shatteringly provocative theater. It's a big-budget musical comedy with some great songs, impressive performances and even a bit part for the legendary Estelle Parsons. It beats most reasonable expectations and knows how to uncork the bottle of bubbly and have a good time. Why not join in all the fun?
By John Soltes / Publisher / John@HollywoodSoapbox.com
Nice Work If You Can Get It

Music and lyrics by George and Ira Gershwin

Book by Joe DiPietro

Directed and choreographed by Kathleen Marshall

Starring Matthew Broderick, Kelli O'Hara, Michael McGrath, Judy Kaye and Estelle Parsons

Running time: 150 minutes

Currently running at the Imperial Theatre at 249 W. 45th St. in New York City. Click here for more information.

Rating: