TRIBECA REVIEW: 'Easter Eggs'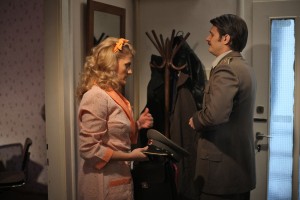 In Easter Eggs, a new short film from director Slobodan Karajlovic, we visit a family living in 1970s Communist Yugoslavia. From the outside, it looks like a wholesome portrait: Father heads off to work, mother stays home, the children get ready for school. What shatters this picture is the father's profession: He's an officer in the army and a strident Communist. He believes in the cause so much that he refuses his family members to practice their Christian faith. Everything should be given to the state, and there should be nothing more supreme than love for one's ideology.
This presents a particular problem around Easter time, when the mother wants to hide some eggs for her children and maybe even attend Mass. Like a spy on the prowl, she needs to keep her devotion secret from her husband and make sure the kids don't spoil the surprise.
The film is shot with a characteristically 1970s vibe. The small apartment where this family lives has curtains and wallpaper from the time period, and everything feels authentic. The acting is all impressive, especially from the actor playing the father. The plot is somewhat predictable, but the ending is nicely surprising.
For a 14-minute film, Easter Eggs is able to say a lot about a time period, country and way of life. The film recently played the Tribeca Film Festival as part of the Fallout series.
By John Soltes / Publisher / John@HollywoodSoapbox.com
Click here for more information.