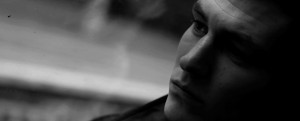 Donkey, a short film that recently screened at the Tribeca Film Festival, taps into the current headlines of how bullying can forever affect a child's life. It's an engaging 7-minute film that's slickly directed by Keir Burrows, and the writing can be quite beautiful. There's not much weight to extend the film to feature length, but as a short it's able to tackle an important topic in an unconventional manner.
David is successful, at least from an outsider's perspective. He has a plum job as a London banker, good looks and a sense of self-assurance. Stanley is the kid he would bully and tease back in school. Calling him donkey because of the funny animal impressions Stanley did, David constantly wonders what ever happened to his fellow student. Certainly, he has a great feeling of guilt for his harsh words, but maybe there's a way for reconciliation.
When David eventually finds Stanley as an adult, the results are quite surprising, indeed. Starring James Farrar and Andrew London, Donkey is part of Tribeca's Character Flaws series.
By John Soltes / Publisher / John@HollywoodSoapbox.com
Click here for more information.